Our New Hendon Branch, call 0208 202 9910
If you're nervous about dental treatment, the British Dental Association recommends you seek out a dentist who you feel comfortable Smile Cliniq has recently partnered with a NHS dental practice in Hendon. With a limited NHS contract, we now accepting NEW NHS patients. However we also offer private dental treatment including teeth whitening, invisible braces, white fillings, and white crowns as well cosmetic treatments for patients who wish to have cosmetic dental treatment.
We are located at 125a Station Road, Hendon, NW4 4NL.
0208 202 9910
hendon@smilecliniq.com
Public Transport:
Train: Hendon
Tube: Hendon Central
Bus: 326, 183, 653, 683, 143, 643 and 113
Map of Hendon surgery: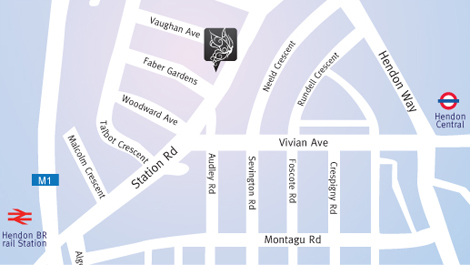 Call 0208 202 9910
You are exempt from paying NHS charges if:
Under 18
18 and in full-time education
Pregnant or you've had a baby in the 12 months before treatment starts
You or your partner (including civil partners) get Income Support, Income-based Jobseeker's Allowance, Income-related employment and Support Allowance or Pension Credit Guarantee Credit
You are named on, or entitled to, a valid NHS tax credit exemption certificate
You are named on a valid HC2 certificate
Call 0208 202 9910
If you're nervous about dental treatment, the British Dental Association recommends you seek out a dentist who you feel comfortable with! They suggest meeting the dentist in advance and taking a tour of the dentist's facilities before you begin treatment.
At Smile Cliniq, our resident Hendon NHS Dentists - Chetan Kaher and Sarita Kotecha understand this completely! We offer luxurious, comfortable surroundings, personalised service, and exceptional dentists who's studied with some of the best clinicians in the world!
Procedures such as tooth whitening and implants can be carried out in comfort with your local Dentist.
We have regular offers and discounts off selected treatments which are always updated in our practice and onto our complete user friendly website.
We strongly encourage you to visit our state-of-the-art Hendon NHS Dental practice and take a look around. From our comfortable reception area to our modernised treatment surgery, every detail has been designed to ensure your visit with our dentist is as pleasant and comfortable as possible. We believe our complete attention to detail is the reason we are winners of the British Dental Associations Good Practice Scheme.
When you arrive at the Smile Cliniq, you will be greeted with a warm and friendly smile. Our Hendon dentists are fully experienced in both general and cosmetic dentistry, and they will discuss all your dental options in advance. Rest assured, our Hendon dentist will initiate treatment only when you are completely confident and ready!
If you are interested in smile design our advanced computer imaging and digital photography will allow you to view before and after images of your new smile, before our Hendon NHS dentist even begins!

To request a private and confidential consultation with this outstanding award winning Hendon dentist, do not hesitate to call 020 8202 9910 or visit www.smilecliniq.com. We are located at 125a Station Road near Hendon Central Tube station.