Unwanted body hair can be upsetting for both women and men. Laser hair removal is the most effective treatment available. We use the most up to date technology to gently yet rapidly remove surplus hair leaving you able to wear the clothes you wish or simply feel more confident with smooth, hair free skin. This is the only treatment that is medically proven to give you permanent hair reduction. It is suitable for most areas of the face and body. Smile cliniq is one of the only laser clinics in the area to be fully registered with the care quality commission, ensuring we are fully trained, with all the correct techniques, procedures and equipment with full indemnity insurance cover for your peace of mind.

Life Cycle of the hair follicle
In order to understand the process of laser hair removal it is important to understand the lifecycle of hair: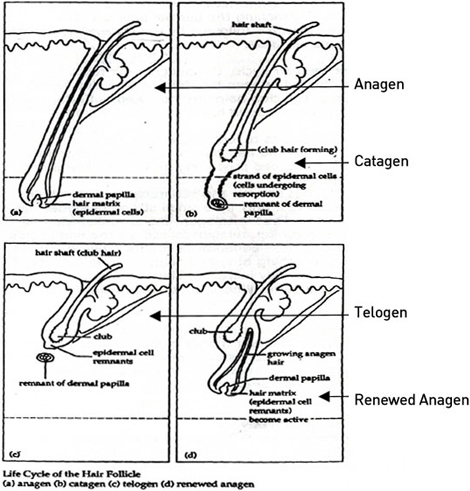 Hair consists of a hard protein called keratin which is formed in the dermal papilla. The colour of hair depends on the presence of a pigment called melanin. This is produced by cells called melanocytes in the dermal papilla. The colour of hair is determined genetically and by the amount and type of melanin produced by the melanocytes. Hair growth occurs in a cyclical fashion. The anagen phase is the active phase. During this phase the hair is connected directly to the dermal papilla in the base of the hair follicle. The telogen phase is the resting phase during which there is no connection with the dermal papilla.
How does laser hair removal work?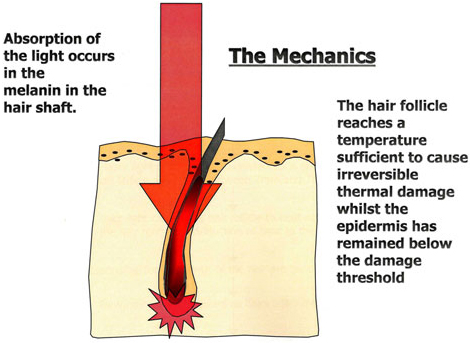 Hair in the anagen phase is most susceptible to permanent damage. The IPL source or laser light is absorbed by the melanin in the hair follicle, which lies between 2mm and 7mm into the skin. This IPL or laser light causes the hair to heat rapidly, leading to destruction of the hair root and conduction of heat to neighbouring cells. New hair growth appears as more hairs enter the anagen phase. New hair growth can be treated again and the percentage of re-growth decreases with each subsequent treatment. The best results also occur when there is plenty of target pigment melanin in the hair and therefore white, blonde and grey hair cannot be treated.
Laser Skin Rejuvenation and Acne Treatment
Laser can be used to stimulate collagen production in the skin, leading to an enhanced healing response. Not only does it reduce acne but it can reduce superficial scarring and wrinkles, thus improving the texture and appearance of your skin.
Skin Peels
Agera skin peels represent a major advancement in the non-invasive treatment of ageing skin, acne and unwanted pigmentation. These unique no down time peels provide visible results without unsightly skin shedding, redness or irritation. Skin peels are a safe and effective way of reducing the visible signs of ageing on more mature skin, reducing the appearance of fine lines, discolouration, acne scars and blemishes. They can also benefit younger skin, delivering a fresh and radiant complexion. Anti-ageing peels stimulate cells deep within the skin to promote collagen and elastin production and help eliminate fine lines and wrinkles for a firmer, smoother and more radiant appearance. Acne peels rapidly bring acne under control and dramatically reduce the risk of future scarring. These revolutionary peels also reduce blocked pores and redness associated with acne conditions. Pigmentation control peels penetrate the skin's pigment cells to gently and effectively reduce the appearance of unwanted discolouration for a more even skin tone.
The daily use of Agera home care products in conjunction with Agera peels will enhance and maximise your results.
Facial Skin Peels: Frequently Asked Questions
Skin peels: Who does it suit?
It can be used on all skin types and does not require weeks of skin preparation. The chemical peel and treatment protocols can be tailored to suit the patient's individual skin type and condition.
Skin peels: How long does it take?
The treatment itself takes around half an hour, but it may be longer depending on the product and treatment chosen. A chemical solution is applied to the area being treated and you will feel an initial warm sensation as the chemical becomes active.
Facial chemical peels: What's right for me?
We offer a variety of treatments and products. Book a free consultation with one of our trained aestheticians to discuss your requirements and discover what results could be achieved.













CHAT LIVE WITH US
OR

ask us a question
St Johns Wood
02073281200