Dr Ranjana Khiroya Smile Designer ®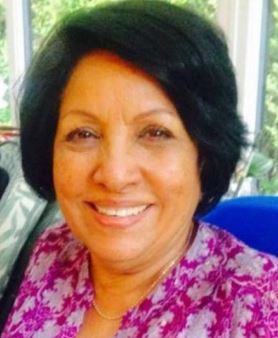 GDC No:
MBBS, DRCOG, FRCA, FFPMRCA
Diploma of Royal College of Obstetrics and Gynaecology
Fellow of the Royal College of Anaesthetists
Fellow of Faculty of pain medicineof Royal college of Anaesthetists.
After completing general training and higher professional training Ranjana became a consultant in 1987. During her 36 years of practicing as an anaesthetist she has gained a vast amount of experience in the NHS and Private sectors covering all specialities. She has worked for several years as a specialist in acute and chronic pain management and has gained vast experience in managing all kinds of pain using acupuncture, regional blocks and pharmacological agents.
She has carried out research cryoanalgesia which was published in Anaesthesia magazine. Ranjana also carried out a study in the use of a cell saver in orthopaedic surgery to reduce the need for blood transfusion. This study was presented at NATA. Outside of work, Dr Khiroya is interested in music and is currently taking classes in vocal training. She also practices meditation.
Professional memberships:
General Medical Council
Medical Defence Union
British Pain Society
British Medical Acupuncture Society
British Medical Association
Association of Anaesthetists of great Britain and Ireland