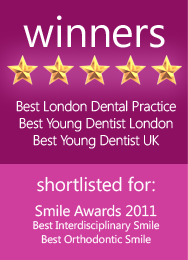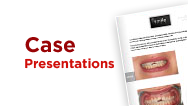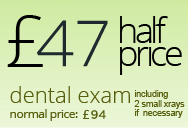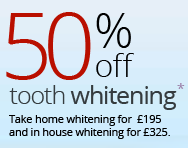 Interest free payment options are available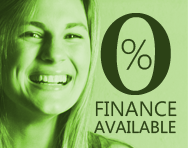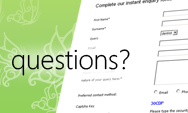 Travel to Finchley Branch
Travel to St John's Wood Branch

Clear braces to straighten teeth. Invisalign uses a chain of clear aligners that are custom moulded to fit your teeth perfectly. The virtually invisible aligners gradually reposition your teeth into a smile you'll be proud of.
Why is it used?
To straighten crowded, spaced or misaligned teeth, creating a beautiful smile in an invisible manor. Over half a million people have opted to use the Invisalign system due to the sheer convenience and ease of the treatment. Also deciding to straighten teeth which are too crowded or widely spaced can prevent unhealthy conditions such as gum disease. Straighter and better aligned teeth help gums fit tighter around each tooth and they become easier to clean. Whilst using Invisalign you can continue to brush and floss normally.
Click here to compare all orthodontic treatments
How does Invisalign work?
Invisalign treatment starts with a dental examination by our experienced Invisalign dentist. He or she will examine your teeth and develop a computer model of your treatment, using casts, picture and radiographs. Together you can review and agree on your Invisalign treatment plan (Clincheck).
Invisalign will then make a series of custom made aligners that will only fit you. Each aligner is slightly different, moving your teeth gradually into the desired position. You wear each aligner for two weeks, before moving on to the next in the series.
We will see you for a progress review at regular intervals and you will then receive your new aligners. Each Aligner will move your teeth little by little, week by week, until they reach the desired position.
Treatment length will vary depending on your case, but the average Invisalign treatment is nine to fifteen months and the average number of aligners worn during treatment is between 18 and 30 aligners. Finally all that remains is for you to show off your beautiful new smile!
What are the advantages of Invisalign treatment?
Predictable treatment, as Invisalign® is planned in advance, we can more accurately predict when your treatment will be finished.
Cosmetically superior to normal braces due to near invisibility of Invisalign braces. So, no more embarrassing metal wires.
No metal allergies due to brackets and wires.
Greater treatment visibility and easier planning with our treatment software.
Custom manufacture means a tailored match to your teeth, for reduced irritation and fewer scratches.
Invisalign is Removable, so you can eat and drink what you want while in treatment.
Click here for more information and consent
A few points to consider when you are thinking about Invisalign
Can I spread the Invisalign treatment cost upto 6 months with Interest Free Finance or 3 years with a small interest charge?
During the Invisalign consultation, will you listen carefully to all of my expectations and design an individually tailored Invisalign solution for my needs rather than taking a one size fits all approach?
Do I have full input into my Invisalign 3D computerized treatment plan (Clincheck) which determines the final position of my teeth?
Will I receive my Invisalign Aligners immediately after they are constructed by Invisalign and not wait 3 months on a waiting list before I can have my first Invisalign aligners?
Will my Invisalign treatment be monitored regularly by my own Invisalign dentist as recommended by Invisalign and not monitored by nurses or therapists?
Are my mid-case Invisalign corrections included in the Invisalign price quoted?
Are my end of treatment Invisalign Refinements (Fine tuning of teeth position after active Invisalign treatment) included in the Invisalign price quoted?
Will I be quoted one all inclusive Invisalign price without any nasty hidden charges?
Can I have my Invisalign appointments on weekends and late evenings to suit my work hours?
Are my Invisalign Impressions going to be taken by my own Invisalign trained dentist and not by nurses or therapists?
If any extra treatment impressions become necessary, are they included in the quoted price?
Will I receive the Invisalign Starter Kit free of charge at the beginning of my Invisalign treatment?
Will you do everything possible to prevent tooth extractions becoming necessary for space creation?
Free no obligation Consultation with an experienced Invisalign dentist and not with a patient coordinator or nurse?

Please click here for our fees guide.
Please click here for examples of our work
For further details of our techniques, materials and techniques please click here.
Please click here for our guide to maintaining your oral hygiene.
Interest free payment options are available
Return to the top of the page