Damon Braces London
Click here to compare all orthodontic treatments
Why choose Damon braces?
Damon braces are a modern orthodontic appliance used to straighten teeth. They consist of high technology metal or ceramic brackets and an archwire, similar to conventional braces, but lighter. The Damon system uses state of the art low-friction technology to allow movement of teeth quickly but gently, allowing you to achieve your perfect smile painlessly.
The slide wire mechanism eliminates need for the band and elastic setup meaning shorter treatment times, and less strain on teeth caused by tightening of bands and elastics
Comfortable despite the strength used to move out-of-place teeth
Ceramic brackets blend in with shade of teeth to make it less obvious
Strong materials used and therefore quicker results
Compact designs allows for easier cleaning around brackets, and therefore easier to maintain good oral hygiene
Healthy teeth are extracted only on rare occasion, and the clinically proven treatment approach will provide a fuller natural facial profile without need for palatal expanders.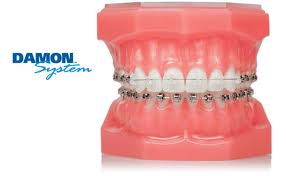 When commencing your treatment with Damon braces, the dentist will take an impression of your mouth and send it to the laboratory. The Damon brackets are manufactured to your teeth which ensure optimum results are achieved at the end of treatment. Once the Damon brackets are made, each bracket is bonded to the teeth with a dental bond whilst maintaining strict moisture control. After having the braces fitted, you will be asked to come back every few weeks for the dentist to review and adjust the appliance.
Will I need to have teeth extracted to have damon braces?
With Damon Braces, it is unlikely that we will need to extract teeth to create space, thanks to the way the system uses biologically sensible forces that work with the body's natural adaptive processes. This achieves a broader, natural profile. In a few cases however, there may be a need to extract teeth to create enough space. This will be performed with consideration of facial balance and profile.
How much will Damon Braces cost?
Price of Damon Braces depends on complexity and length of treatment, but on average treatment will cost around £3600.
At Smile Cliniq, we offer an option to help with the process of paying for treatment, where patients can take out a loan and spread the cost over 6 months interest free. To find out more about the payment option, call us on 020 8090 9077 or ask the dentist during a consultation appointment.
Damon braces compared to Invisalign
Below is a table showing a brief comparison between having treatment with Damon Braces and Invisalign clear braces.
| | | |
| --- | --- | --- |
| | Damon Braces | Invisalign Braces |
| Clear / Virtually invisible | Yes | Yes |
| Can anyone have the treatment? | Yes | No |
| Perfect result always achievable? | Yes | Usually in mild – moderate cases, but difficult for severe crowding. May require refinement aligners near end of treatment. |
| Stable result? | Yes, but as will all braces, a removable/fixed retainer is required to keep teeth in their new position | Not as stable as Damon system, but use of fixed/removable retainer will prevent re-lapse |
| Is it comfortable? | They will need a bit of time to get used to, but are usually found to be more comfortable than traditional braces | May need to get used to wearing aligners for the first few days, but are generally found to be comfortable |
| Are they removable? | No, so there is no chance of losing your braces. It also means that they are working constantly to achieve results quickly | Yes, which may be an advantage when you are eating out etc. However, there is a chance of losing/ forgetting to wear your aligners which can prolong treatment time and cost |
| Cost | £3600, which is similar to traditional braces. | Around £3000 |
Damon braces are a very good option for those who require significant amount of movement to straighten their teeth, but who wish to have treatment completed quickly with minimal aesthetic impact, pain and discomfort.
Damon braces are a way to straighten your teeth comfortably and cosmetically. We are able to provide damon braces in London at a reasonable cost carried out by well qualified dentists. Damon braces are an up and coming treatment for malocclusion and crooked teeth. Dentists at Smile Cliniq dental practice in London will be sure to give you straighter teeth with this new and innovative Damon brace system.
Anything else…
Any braces, aligners and other oral devices take time to get used to.  Initially, it feels uncomfortable, with hyper- or hypo- salivation common, and a small lisp can be present, this usually disappears after a few days.
The biggest risks with any orthodontic treatment are decay and gum disease developing.  As when wearing any oral device, dentures, braces, aligners, retainers, it is more difficult to clean the teeth and gums.  This can cause decay, gum disease, so it is imperative to maintain excellent oral hygiene.  It is often recommended to attend more regularly for hygiene appointments, use a fluoride mouthwash and spend extra time cleaning the teeth during orthodontic treatment.   Please see here for further information on maintaining good oral hygiene.  Small interdental brushes are particularly good for cleaning between the braces and teeth.
Retention:  After treatment is completed we normally place removable (similar to a clear aligners, but non pressurised) or fixed retainers (thin wire bonded to back of teeth) to hold them in their new position.  Over time these can wear down or de-bond and they may need replacing, extra fees will be due when and if they need replacing.












CHAT LIVE WITH US
OR

ask us a question
St Johns Wood
02073281200