Laser Ulcer Treatments & Mouth Sore Treatment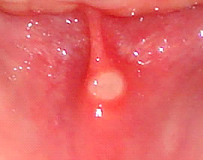 Recurrent Aphthous ulcers affect around 10% of the population. Mouth ulcers can be as a result of various factors, such as iron deficiency, trauma to soft tissues and even stress or secondary to HIV or Chrohns disease. They can be very painful and cause discomfort when eating and drinking. If you are a regular sufferer of ulcers, we can help you!
Our laser ulcer treatments work as the laser dries out the ulcer and ablates nerve endings, therefore, promoting speedier healing. This oral ulcer treatment is a much more effective way of treating persistent ulcers than creams such as Bonjela and saltwater rinses.
It also disinfects the ulcer which reduces the risk of secondary infection. This is something that you will not get from any other treatment. During our low-intensity laser therapy, it is normal to feel a warm sensation as it works to eliminate the ulcer and prevent further infection. While not a cure, it immediately reduces the pain involved with ulcers and improves the speed of healing after the mouth sore treatment.
Low-Intensity Laser Therapy (LILT) application can help with both a reduction in pain and provide for quicker healing compared to corticosteroid treatment. A study conducted De Souza et al revealed that 75% of the patients who have had an oral ulcer treatment reported a reduction in pain in the same session after laser treatment, and total regression of the lesion occurred after 4 days. This is part of what makes this surgery the best treatment for mouth ulcers when compared to creams and rinses. When compared against these other treatments, the Total regression in the corticoid group was from 5 to 7 days which is much slower than our laser mouth sore treatment.
The Benefits of Using Laser Ulcer Treatment
Studies into low-intensity laser therapy and other laser ulcer treatments have also been found to treat oral herpes ulcers from the herpes simplex virus. These studies have confirmed the benefit of Low-Level Laser Therapy in decreasing pain, improving wound healing compared to other treatment modalities like acyclovir. There is also some evidence of delayed reoccurrence of the lesions after being treated with low-intensity laser therapy and other mouth sore treatments that are available.
Our low-intensity laser therapy and other laser ulcer treatments have also been shown to be useful in the treatment of Chemotherapy-Induced Mucositis and Erosive Lichen Planus lesions.
Finding out more about some of the best treatment for mouth ulcers is easy. We are always on hand  to answer questions and book a consultation with you. It is as simple as contacting us or booking online. We will take care of everything for you and make you feel as confident as possible when undergoing our oral ulcer treatment. Our experienced team have multiple years of experience in this field and will be on hand to ensure that you get the best treatment for mouth ulcers regardless of how long you have been suffering. Get in touch with us today.












CHAT LIVE WITH US
OR

ask us a question
St Johns Wood
02073281200