Before and After Gallery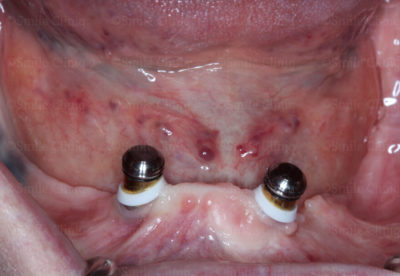 Before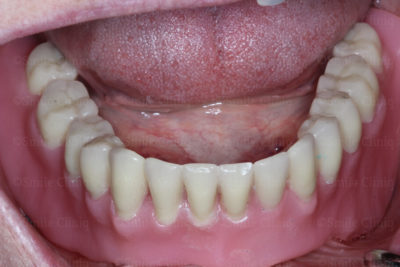 After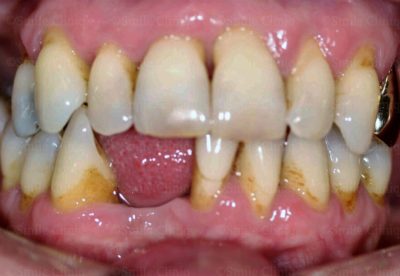 Before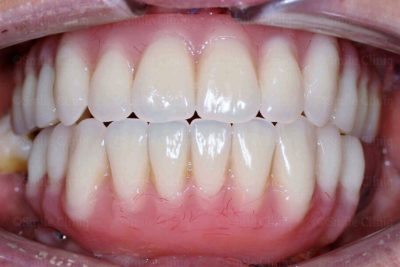 After
Complete and Partial Dentures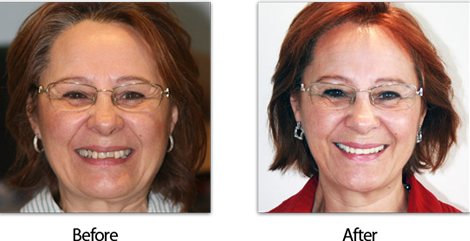 Dentures in the UK are a removable replacement for missing teeth and surrounding tissues. Two types of dentures are available at our dentist in London – complete and partial dentures. Complete dentures are used when all the teeth are missing, while partial dentures are used when some natural teeth remain. With modern techniques, Smile Cliniq is able to make well-fitting cosmetic dentures London.
Our false teeth dentures in the UK are fabricated with high-quality, award-winning, life-like, natural and strong Engima teeth from Schottlander, which we believe are the best dentures in the UK on the market. In 2004, Schottlander was honoured to receive the Queen's Award for their Enigma Teeth and Denture System. To quote the Queen's Award Office, "A Queen's Award is the highest honour that can be bestowed on a UK business. To have a Queen's Award is to be acknowledged as the best in your field". Engima denture teeth have 27 different shapes of teeth available, with 17 different shades, so with a plethora of false teeth options you really get the exact smile you wanted with complete or partial dentures.
Positive Effects of Denture Replacement
Complete Dentures in the UK
When it comes to your false teeth options, complete dentures can be either "conventional" or "immediate." Made after the teeth have been removed and the gum tissue has begun to heal, conventional dentures are ready for placement in the mouth about 8 to 12 weeks after the teeth have been removed. Unlike conventional dentures, immediate dentures are made in advance and can be fitted as soon as the teeth are removed. As a result, the wearer does not have to be without teeth during the healing period.
However, bones and gums shrink over time, especially during the first weeks following tooth removal. Therefore, a disadvantage of immediate dentures compared with conventional dentures in London is that they require more adjustments (relines) to fit properly during the healing process and generally should only be considered a temporary solution until conventional dentures can be made.
Partial Dentures In The UK
Removable partial dentures in the UK usually consist of replacement teeth attached to a pink or gum-coloured acrylic base, which is connected by a metal framework that holds the dentures in place in the mouth. Partial dentures are used when one or more natural teeth remain in the upper or lower jaw.
Benefits of Dentures London
The presence of teeth helps to provide a natural facial appearance and can potentially help to increase one's self-confidence. Furthermore, the denture fittings themselves can provide support for the lips and cheeks that can often take on a 'collapsed' appearance in patients with missing teeth. The ability to chew food correctly suffers if teeth are lost and can be improved by wearing dentures. This in turn means that food can be digested more easily as it moves through the body, helping people to take the maximum possible nutritional benefit from the meals they consume. Consequently, both complete and partial dentures can not only boost the health and appearance of the mouth and face but also the body as a whole.
If teeth are lost, people can often find their ability to speak clearly is impaired, particularly in the case of the anterior teeth – namely the incisors and canines. Those who opt for our dentures London treatments should therefore find that their pronunciation improves. All dentures of this nature are finished in high-impact very natural-looking acrylic teeth, meaning they can stand up to the wear and tear that affects teeth daily. We recommend selecting the best dentures UK on the market for the most practical and realistic effect.
False Teeth Options: Are There Alternatives to Dentures In The UK?
Yes, there are other false teeth options. Dental implants can be used to support permanently cemented bridges, eliminating the need for a complete or partial dentures. The dentures cost UK is usually greater, but the implants and bridges more closely resemble the feel of natural, teeth. Dental implants are becoming the preferred alternative to dentures but not everyone is a candidate for implants.
Missing tooth options
How Are Dentures in the UK Made?
The general steps at Smile Cliniq are as follows: A thorough dental examination and discussion as to your false teeth options and which type is best suited to you, taking into account your requirements and budget. A full costing will also be given to you at this point for your dentures in London. Interest-free credit is available to pay in low monthly instalments to help with the dentures cost UK.
Enigma Cosmetic Dentures in London
A series of impressions of your jaw and measurements of how your jaws relate to one another and how much space is between them will be taken.
In certain cases, we will make a laboratory-made special tray to obtain a more accurate impression of your teeth.
We will create models, wax forms, and/or plastic patterns in the exact shape and position of the denture to be made. You will "try in" this model several times and the denture will be assessed for colour, shape and fit before the final denture is cast.
A final denture will be tried and fitted to ensure they're the best dentures in the UK on the market.
Adjustments will be made as necessary.
A smile is so important; it tells everyone you are happy, confident and ready to get on and enjoy life. Consequently, the loss of teeth can have a dramatic impact on a person's self-confidence and esteem. Not only are teeth important for smiling (aesthetics) and eating (function), but they also help support the lips and face. Missing teeth can result in difficulties eating, a self-conscious smile and a 'sagging face' appearance.
Unfortunately, a lot of dentures look false because they lack the attention to detail and are not made to meet the individual's needs and requirements. Dr John Besford is one of the world's leading authorities on the provision of dentures and has coined the term, 'The British Standard Denture' to describe this style of the denture as the best dentures on the market in the UK. Often the teeth used are too small, so too much gum is shown; the teeth are set too far back, so there is reduced support for the lips and the face, and the dentures look unnatural because the teeth are too uniform and the gums are too pink.
The Enigma Cosmetic Denture System can provide natural-looking teeth and gums. Natural teeth are not uniformly white and everyone will have slight variations in colour and little marks or features that make the teeth look individual. It took more than five years to develop the teeth in the Enigma System – a range of teeth that means that denture-wearing can be a secret shared only between clinician and patient, so they're one of the best false teeth options anywhere. Enigma teeth not only reproduce the wide range of shades, translucencies and vitality of natural teeth but also assure exceptional strength and durability in the mouth.
The picture shows some of how Enigma teeth mimic nature and so enable your clinician to provide the most cosmetic denture possible.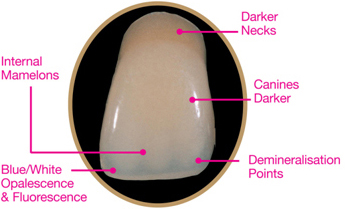 Natural teeth consist of dentine covered with a translucent enamel layer that gives depth to the tooth colour. Enigma teeth have a similar structure with a darker core (dentine layer) covered with an enamel layer that is especially visible at the tip. The blue-white opalescence reproduces the effect of that different structure. Natural teeth brighten in strong sunshine and are still white under disco lighting. Many artificial teeth only do this weakly but the Enigma enamel fluoresces to mimic nature. The teeth next to the front teeth are smaller, lighter and have greater opalescence, whereas the eye or canine teeth are darker. Using these Enigma Teeth will add vitality and make the mouth look three-dimensional – just like your natural teeth – making these the best dentures on the market in the UK.
In order to achieve a totally natural appearance, it is important to consider the appearance of the gums as well as the teeth. Natural gums are frequently whitish near the teeth and the tissue varies in colour from a pink to a reddish colour. The natural gum colour of many ethnic groups has a brownish rather than pinkish hue. Within the Enigma Cosmetic Denture System are a range of tools for individual colouring of the base to harmonize with your natural gums. Examples are shown in the photos below.

The goal of both complete and partial dentures is to replace what is missing from the mouth and ensure natural-looking dentures that enable the wearer to talk, smile, and eat with confidence. The Enigma Cosmetic Denture System enables the clinician and dental technician to construct natural-looking dentures that allow you to smile and enjoy life.
Dentures London FAQs
How much do dentures cost in the UK?
Single Acrylic Denture – from £495 (with membership from £420.75)
Single Cobalt Chrome dentures – from £950 (with membership from £807.50)
What is the difference between full and partial dentures?
Depending on how many teeth you have missing, you may have a full or partial denture. You may also have a temporary partial denture while you're waiting to have a bridge fitted.
A full denture is a removable acrylic base, or plate, which sits over the gums. On top of this sits a set of crafted acrylic teeth, which will be made to look as natural as possible. This replaces your original teeth.
A partial denture is attached to the teeth on either side of the gap and replaces one or a few missing teeth. They are also used as an alternative to a bridge to fill gaps in your teeth. Partial dentures may have a base plate made of plastic or metal. Those made with metal are stronger and lighter but are more expensive.
What are the disadvantages of dentures in the UK?
Dentures are a removable solution, not a permanent one. Getting used to them will take time and they may feel a bit uncomfortable to start with. Also, some words may be difficult to pronounce at first, but this usually improves with time.
Click here for more information and consent












CHAT LIVE WITH US
OR

ask us a question
St Johns Wood
02073281200