Pulp Therapy (Baby Root Canal)
We all at Smile Cliniq Children's Dentistry in London understand the importance of providing the best dental care for your child, and that's why we offer specialised services like children's pulpotomy to ensure your little one's smile stays bright and healthy.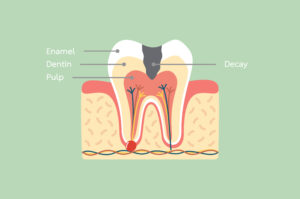 What is a Pulpotomy for Kids?
A pulpotomy is a dental procedure for children aimed to save a decayed or infected tooth when the decay reaches deep into the tooth (innermost part of a tooth), preventing the spread of infection and saving the tooth. It's often referred to as a "baby root canal."
Why Choose Smile Cliniq Children's Dentist for Your Childs Pulpotomy?
At Smile Cliniq, we prioritise your child's comfort and well-being throughout the entire dental experience. Here's why we are the top choice for children's pulpotomy in London:
1. Experienced Paediatric Dentists
Our experienced and friendly paediatric dentist Dr Sarah Bux specialises in treating young patients. She have the skills and knowledge required to make your child's visit as comfortable and stress-free as possible.
2. Child-Friendly Environment
We've created a warm and welcoming atmosphere designed to put children at ease. Our kid-friendly waiting area and treatment rooms are decorated with colourful themes to make dental visits enjoyable.
3. State-of-the-Art Equipment
We invest in the latest dental technology to ensure precise and efficient treatment. Our advanced equipment helps reduce discomfort and treatment time for your child.
4. Gentle and Compassionate Care
We understand that dental procedures can be intimidating for kids. Our dentists take the time to explain the procedure in a child-friendly manner, helping your child feel more relaxed and informed.
5. Preventive Approach
Our primary goal is to preserve your child's natural teeth whenever possible. We use pulpotomies as a preventive measure to save baby teeth and maintain oral health.
The Children's Pulpotomy Process
1. Examination
Before performing a pulpotomy, our dentist will carefully examine your child's tooth to determine if a pulpotomy is the best course of action.
2. Anaesthesia
To ensure your child feels no pain during the procedure, we use local anaesthesia to numb the affected tooth and surrounding area.
3. Pulpotomy
During the pulpotomy, our dentist will remove the infected or inflamed pulp tissue from the tooth's crown and replace it with a dental material that promotes healing and preserves the tooth's structure.
4. Restoration
In most cases, a crown will be placed over the treated tooth to protect it and restore its function and appearance.
We understand that dental treatment for kids can be traumatic and we would like to make it as comfortable as possible for them therefore this treatment can be done under inhalation sedation which will make it much more comfortable for your child.
To find out more about Inhalation Sedation please click here.












CHAT LIVE WITH US
OR

ask us a question
St Johns Wood
02073281200