Emergency Dentist London
Dental pain can be one of the worst kinds of pain you may experience. We offer emergency dental services in London to patients at our Smile Cliniq branches in St. Johns Wood and Finchley. Our branches are well located and easy to get to in London. An emergency dental situation can unfortunately arise at any time and affect our busy schedules, so give us a call and trust us to take care of your emergency in a professional and caring manner. Our lovely receptionist will book you in and we will see you on the same day in case of an emergency.
An emergency dental situation could be due to various causes such as:
Broken tooth
Broken crown and bridge
Loose implant crown
Toothache (from decay or acute gum disease)
Dental Abscess
Wisdom tooth pain
Trauma
Sharp orthodontic wire
Broken Tooth:
A broken tooth could either be a chipped front tooth, collapse of a wall of a back tooth, a crown that breaks off or a filling that comes loose. A tooth breaks mostly due to underlying decay making the tooth week or excessive biting forces due to an unfavourable occlusion. There can be nothing more socially debilitating than a broken tooth seen while smiling.  A broken tooth could turn into a dental emergency as it could be sharp and hurt the tongue and cheeks, it could expose the inner dentine causing severe sensitivity while having hot or cold foods or even by the cold London breeze.
When booked in to see one of our emergency dentists in London, our dentist will first assess the cause of the emergency. In case of a broken tooth in the smile line, we make sure you leave being able to smile again. In case of a broken tooth at the back causing pain, a filling (restoration) should normally be enough for same day dental pain relief treatment. If there is extensive damage to the tooth, our dental team will give you the options, prices, risks and benefits of other available treatments.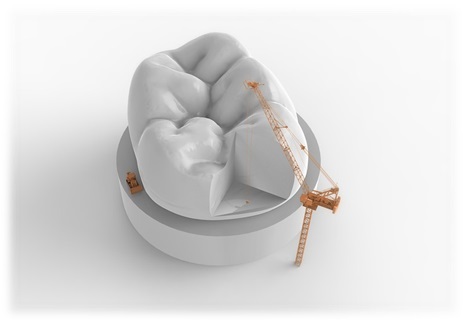 Toothache:
Anyone who has suffered from a toothache will tell you, it is one of the most excruciating of pains our bodies can experience. A toothache is often described as a sharp pain, throbbing pain, pain around one side of the face that goes up to the back of your head and to one side of the jaw.
The cause of the pain is actually our body's reaction to fighting disease. When tooth decay spreads, the bacteria present migrate towards the pulp tissue in the canal. To fight this off there is increased blood pressure to the pulpal tissue in the canal causing inflammation. This inflammation causes increased pressure in the canal thus impinging the nerve fibres resulting in severe pain.
If this pain is ignored or subdued by taking anti-inflammatories and pain killers, we end up ignoring  the problem, this could lead to spread of inflammation and infection into the bone and gums and even cause a swelling to the face.
To avoid this from escalating, it is important you call our London dental centres and we shall deal with it with our same day dental emergency services.  At your emergency appointment we shall do a thorough examination of the tooth hurting you and discuss the severity of the issue. Based on the extent of infection we may either need to prescribe antibiotics or provide same day dental pain treatment. This is done by numbing the tooth and relieving the pressure. We will then discuss the long term prognosis of the tooth and the various options available for treatment.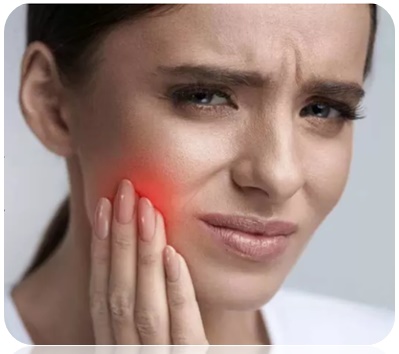 Dental Abscess:
Dental Abscess can be mainly of two kinds. It can be due to the pulpal infection not being treated as described above or even due to poor gum health around a specific tooth or teeth. This is known as periodontitis. When sufficient hygiene protocols are not followed or there is a tooth that is particularly difficult to clean, it gives rise to gum disease. The bacteria then migrate from your gums into the supporting bone and this destruction leads to the formation of pus or infection. You will notice a small swelling or lump on your gums, foul odour and salty taste in your mouth. When this happens it most likely due to an abscess draining pus. To prevent this from leading to a swelling of the face and having loose teeth, it is best you are seen by our emergency dental team. The dentists at our London clinics will make sure to locate the cause of the issue and treat it promptly by either draining the abscess, cleaning the area or by prescribing antibiotics needed to decrease the bacterial load allowing treatment of the area in the future. We will also give you a treatment plan to deal with the gum disease and a suggest a protocol for preventive care.
Broken crown or bridge:
Metal and ceramic dental crowns are supported by the dentin or a core buildup material (such as metal, composite or fibre reinforced posts and cores). When these dental cores weaken due to decay or excessive forces, the crowns may come loose or fall off. Sometimes it is just the cement that's holding the crown that dissolves over time rendering the crown loose. Our London dental team know exactly what to do in such situations and will offer to re cement or bond the crown back or on occasions may recommend reinforcing the tooth with a dental post and core before fabricating a new custom made dental crown.
A dental bridge is a prosthetic design of artificial crowns linked to bridge two teeth and replace a missing tooth or teeth in between.  We will assess the reason the bridge fell off or broke and our team will then find a way, if possible, to re-cement the broken prosthesis to avoid you having missing teeth and also prevent further damage. If this is not possible we will then plan to make a new bridge.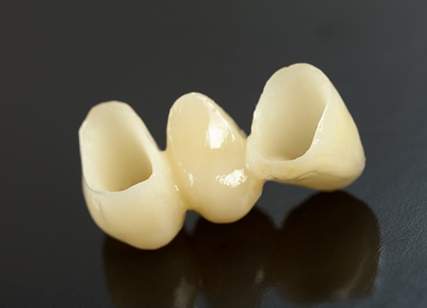 CHAT LIVE WITH US
OR

ask us a question
St Johns Wood
02073281200