Before and After Gallery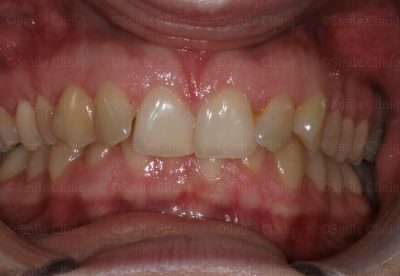 Before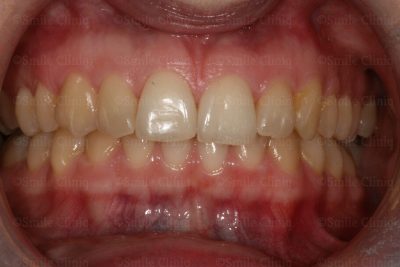 After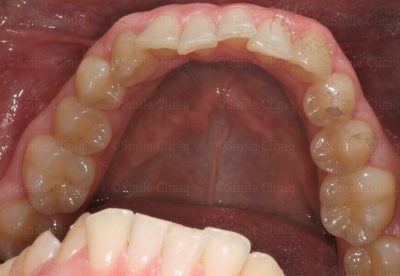 Before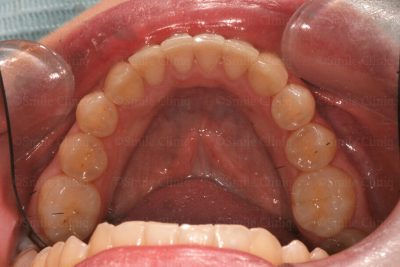 After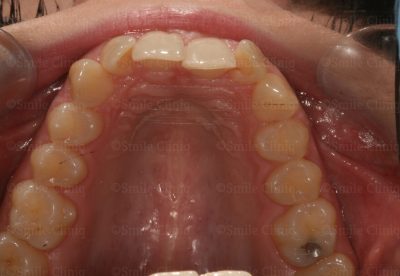 Before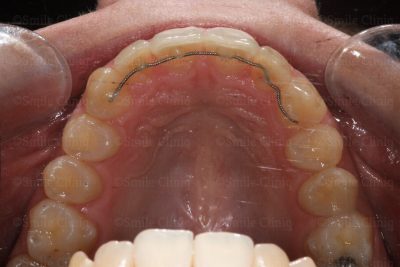 After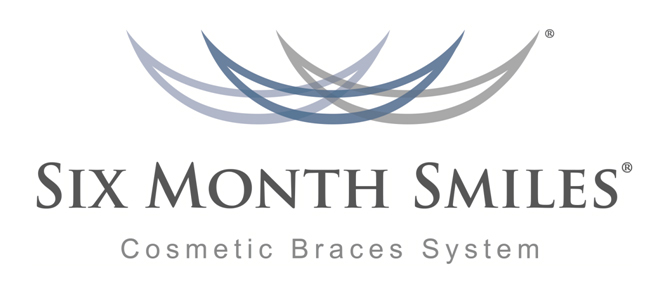 Just as the name suggests, six-month smiles London give you straight teeth in just six months in most cases! This revolutionary system straightens the front 6 to 9 teeth (the teeth that people see when you smile) using clear brackets and tooth-coloured wires, meaning no unsightly traditional metal brackets.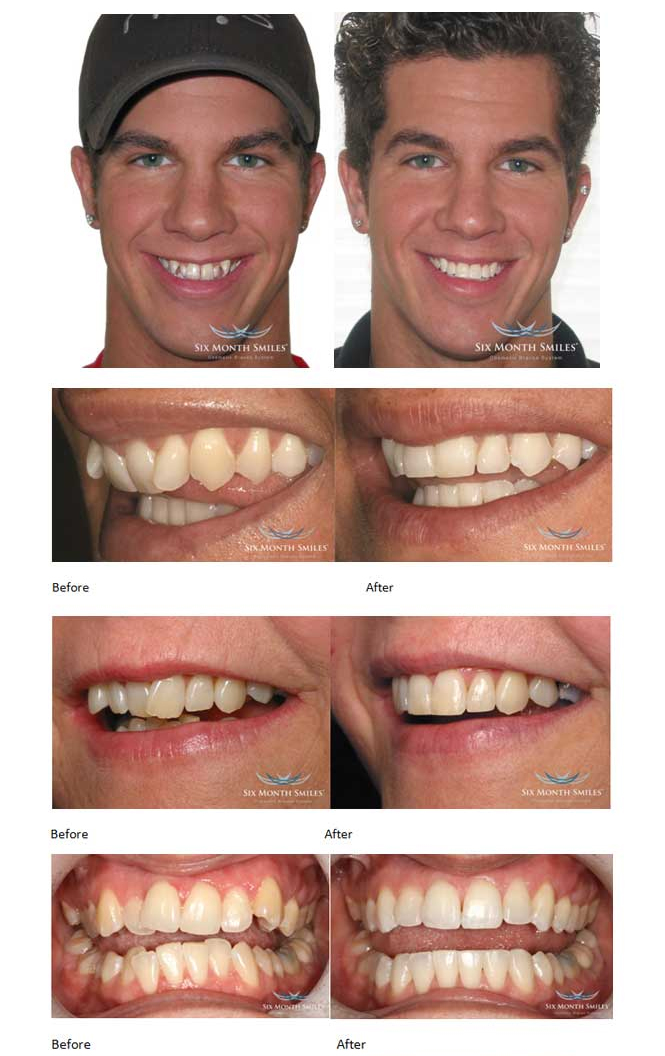 The Advantages of Six-Month Smiles London
The primary advantage of six-month smiles London is the very short treatment time, hence the name. This dental brace treatment usually takes around six months to straighten your teeth. This is significantly faster than undergoing comprehensive full mouth orthodontic treatment and one of the reasons why Six-Month Smiles is a great option when time is of the essence. A few more examples of benefits include:
Barely visible brackets and wires.
Conservative, predictable, and less invasive option to straighten teeth compared to other treatment options.
Custom-made brackets allowing for optimal results.
Shorter fitting appointment than traditional braces.
Typically, six-month smiles London are less expensive compared to veneers and some other orthodontic appliances.
The treatment involves an initial impression taken of your teeth which are sent off to the laboratory, where your brackets will be custom made to your teeth. The 6 months smile brackets are then fitted to your teeth and an arch wire is placed.
You will be asked to return to the Smile Cliniq dentist in London every 4 weeks to tighten the wire and review your progress. Spaces may be created by polishing off a slight amount of enamel between the teeth, to help the teeth move into the arch.
At the end of treatment, an orthodontic retainer will be placed to keep your teeth in their new position. This can either be a removable retainer or a fixed wire retainer that is placed behind the teeth. It is important to wear a retainer once completing the treatment so that your new smile will last you forever!
Six-month smiles London is a great way to get your teeth straightened in a short space of time. If you are interested in the six month smiles system and would like to find out more about it, why not book in for your FREE consultation with our team of cosmetic dentists London at Smile Cliniq.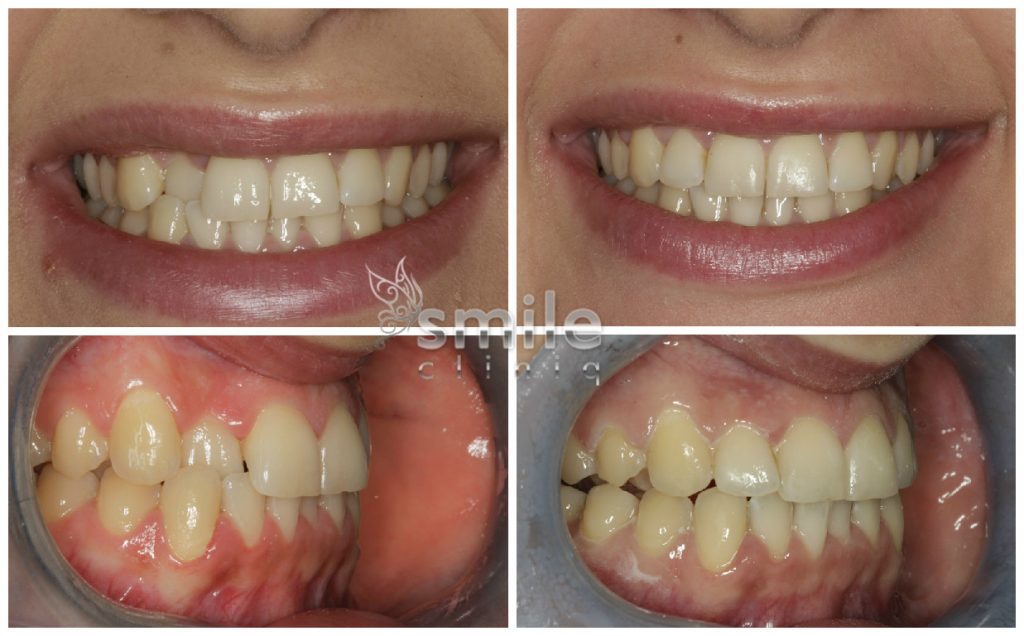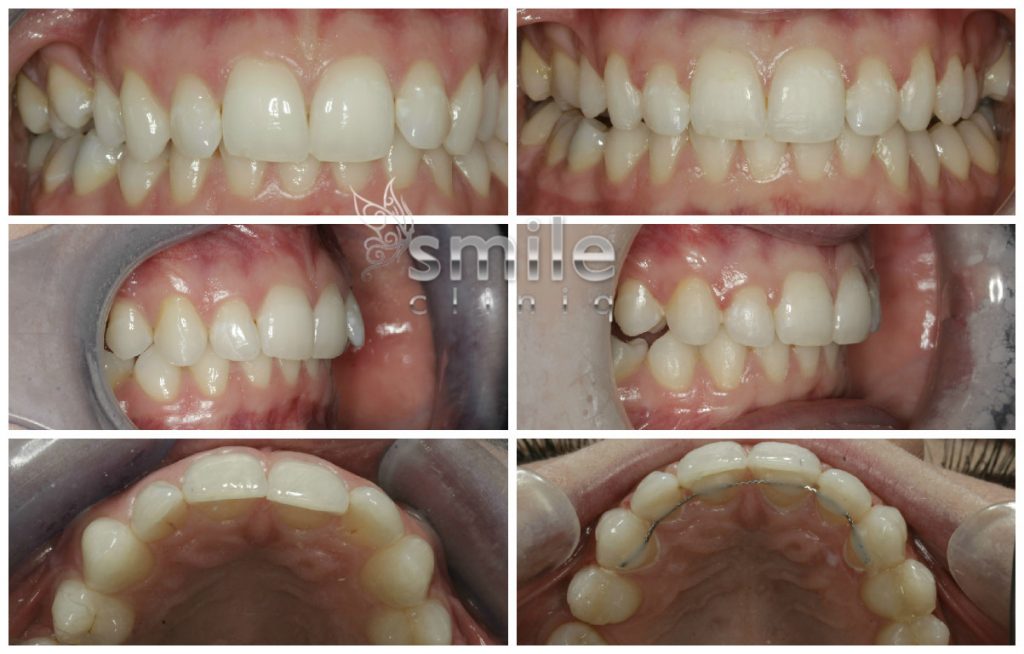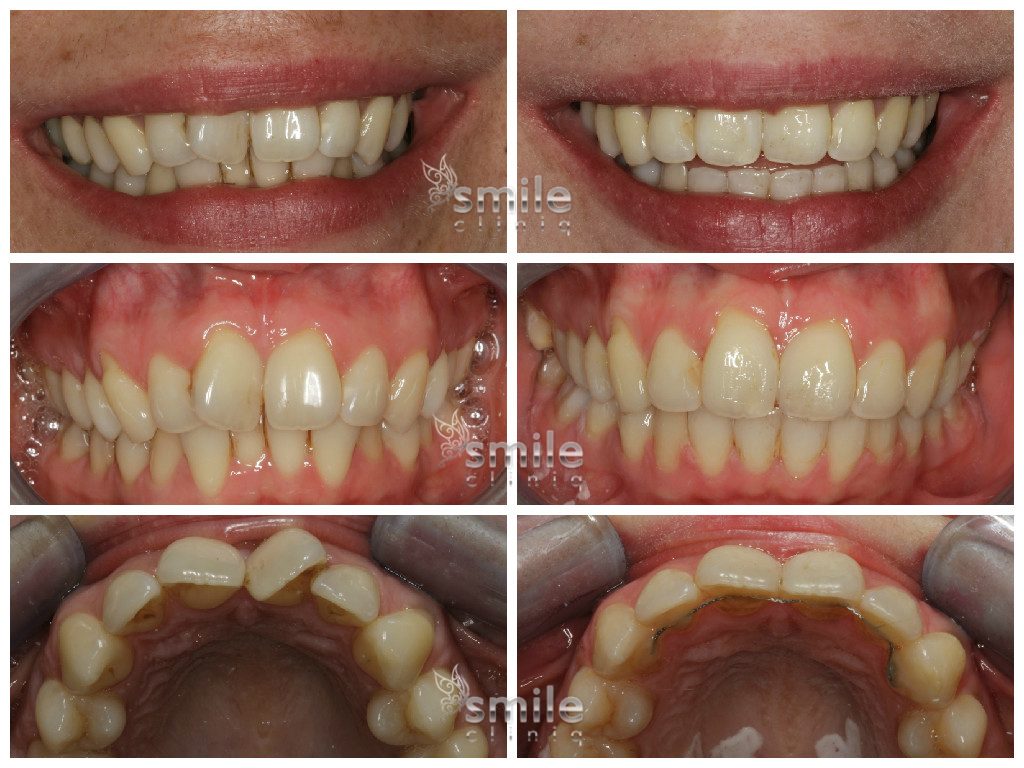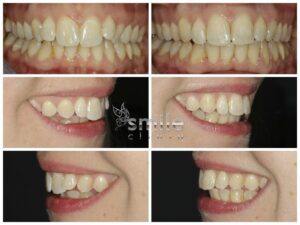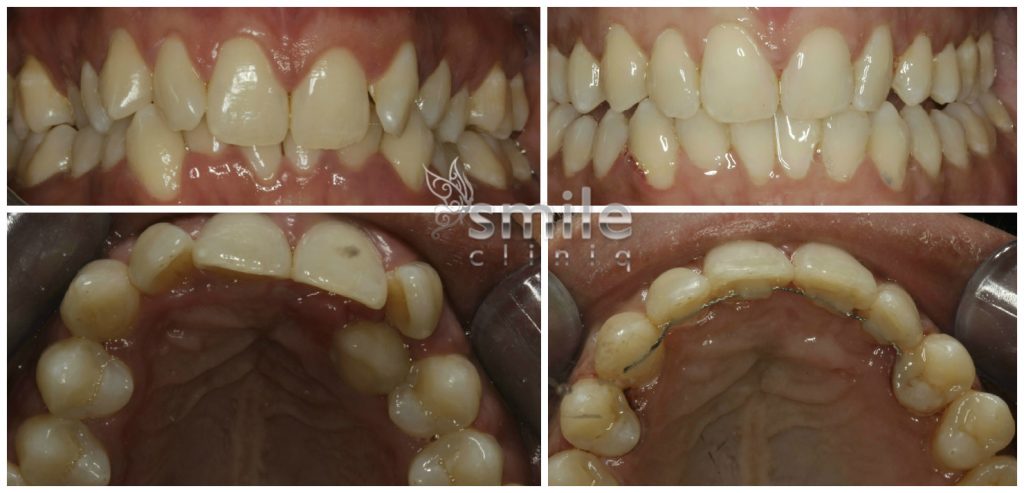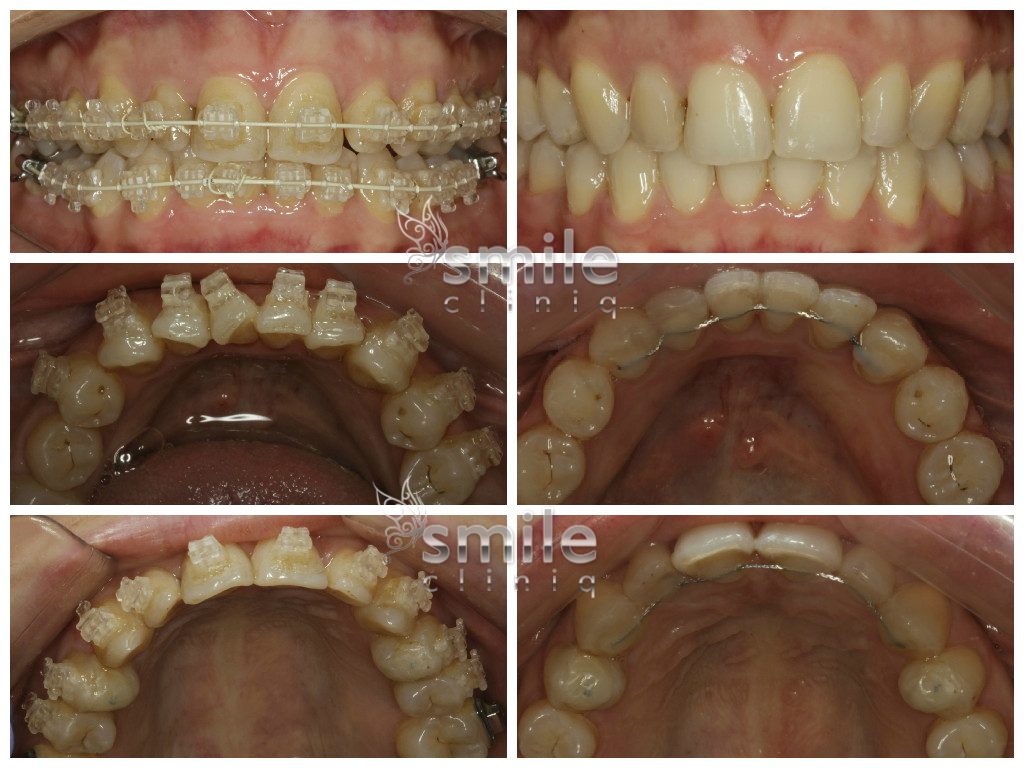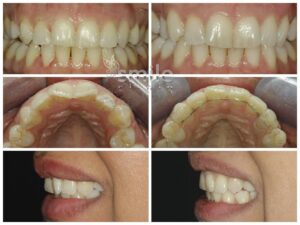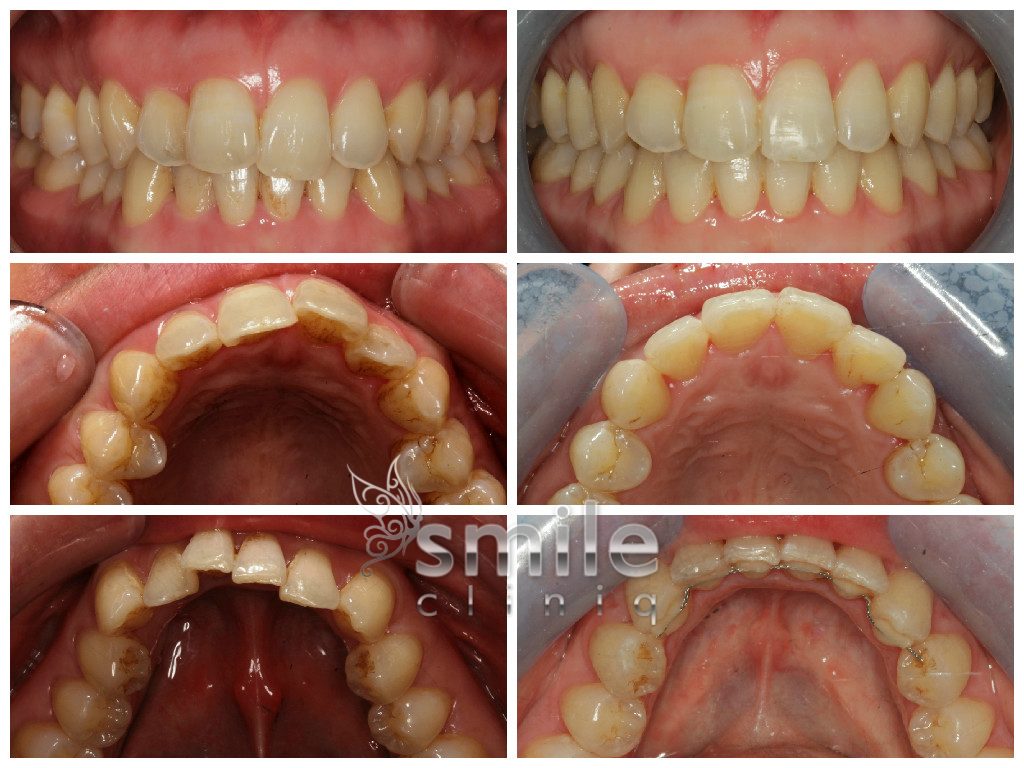 Is Six Month Smiles London the right Option for you?
Six-month smiles London braces can take between 4-9 months, but generally complete straightening your teeth within six months. Therefore, if you're looking for a quick option to straightening your teeth, then six month smiles London may be the option for you.
6 Month Smile London is one of the most effective tools to correct crooked teeth and to perfect your smile. And better still, 6 month smile London achieves this so quickly whereas traditional braces can take up to 2 years.
Can you tell our patient below is wearing 6-month smiles London?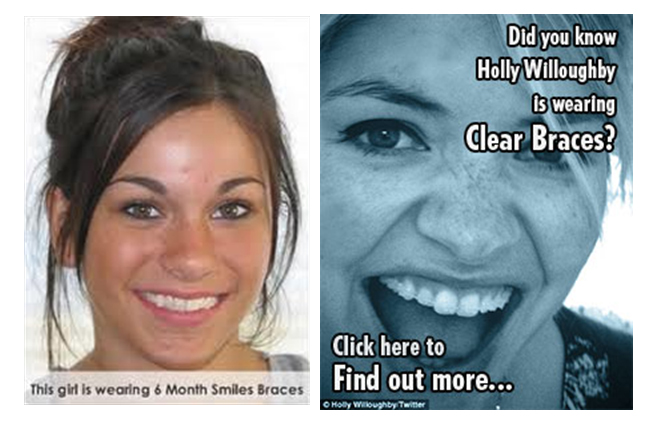 Even Holly Willoughby decided 6 month smiles was for her!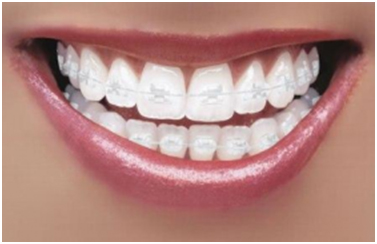 Being one of the most efficient cosmetic fixed brace systems available on the market, teeth move quickly and safely. Once you have decided 6 month smile London is the choice for you, within 2 weeks the brackets can be placed on your teeth and we can start the straightening process.
Your Commitments to us during your experience with six month smiles treatment?
Cleaning your teeth as best possible around the braces to maintain good oral health. To visit us once a month to make sure the wires are moving your teeth as effectively as possible, and if necessary we will change the wires and elastics.
What happens at the end of my six months smile treatment?
Once we have achieved our goals and your teeth are in the correct places, the brackets and wires are removed, and the teeth are complimentary polished to remove any residual staining which can occur during treatment.
We will then proceed to place a retainer of your choice to ensure your smile stays perfect for the future.
The Costs of Six Month Smiles London
| | |
| --- | --- |
| Single arch | from £1999 |
| Dual arch (top and bottom teeth) | from £2999 |
| Retainer costs | from £250 |
Finance options are available for these braces from 0% interest on our 6month or 12 month plans.
For example, for our popular dual arch treatment and set of retainers, total cost usually £3000. With our finance options:
| | |
| --- | --- |
| 6 months @0% = | £500 per month |
| 12 months @0% = | £250 per month |
What if you do not fit the criteria for finance?
If you are unable to apply for finance or have been refused finance (for most cases) we can come to an agreement in-house. Examples of how this works are below:
In-house Payments (examples):
| | |
| --- | --- |
| Option 1:   Total cost = | £3000 |
| Deposit  = | £750 |
| 5 Monthly Payments = | £450 |

| | |
| --- | --- |
| Option 2:   Total cost = | £3000 |
| Deposit  = | £1200 |
| 5 Monthly Payments = | £360 |
More information on Six Month Smiles London
Any braces, aligners and other oral devices takes time to get used to.  Initially, it feels uncomfortable, with hyper- or hypo- salivation common, and a small lisp can be present, this usually disappears after a few days.
The biggest risks with any orthodontic treatment are decay and gum disease developing.  As when wearing any oral device, dentures, braces, aligners, retainers, it is more difficult to clean the teeth and gums.  This can cause decay, gum disease, so it is imperative to maintain excellent oral hygiene.  It is often recommended to attend more regularly for hygiene appointments, use a fluoride mouthwash and spend extra time cleaning the teeth during orthodontic treatment.   Please see here for further information on maintaining good oral hygiene.  Small interdental brushes are particularly good for cleaning between the braces and teeth.
Retention:  After treatment is completed, we normally place removable (similar to a clear aligners, but non pressurised) or fixed retainers (thin wire bonded to back of teeth) to hold them in their new position.  Over time these can wear down or de-bond and they may need replacing, extra fees will be due when and if they need replacing.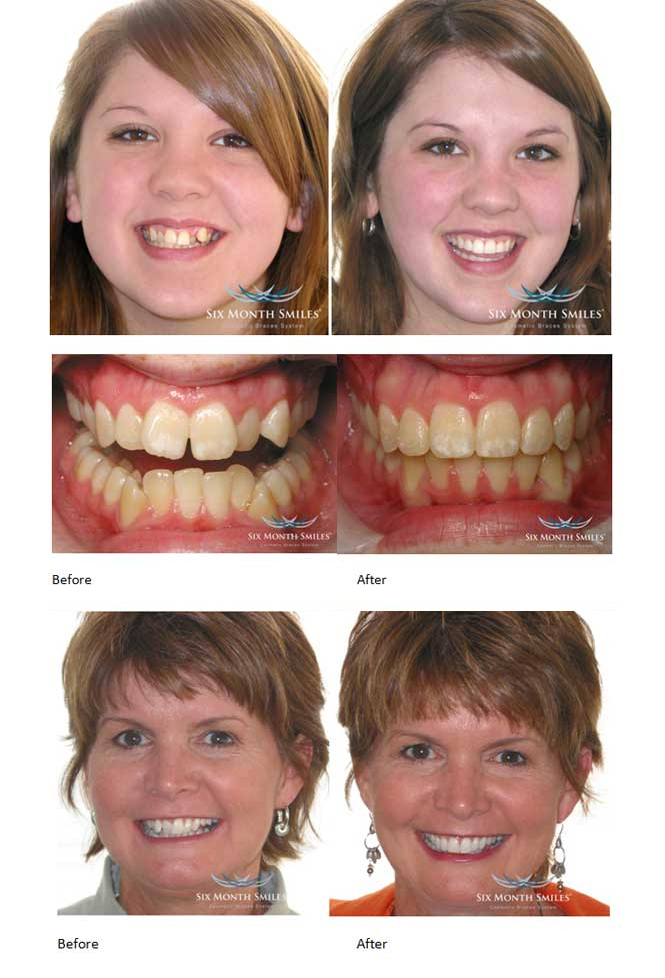 6 Month Smile London FAQs:
How does our 6 month smile London cosmetic braces system work?
6 Month Smiles system is a patented system using clear brackets that are bonded to your teeth during treatment. A white nickel-titanium wire is then held in the brackets with white/clear elastics.
How can Six Month Smiles London straighten teeth in such a small amount of time?
Six Month Smiles London employs the latest technology and techniques in dentistry to move your teeth quickly and safely with clear adult braces. The key aspect of six-month smiles London is the use of clear braces with a primary focus of creating a beautiful smile.
Are 6 Month Smile London Braces more comfortable than regular braces?
In comparison to usual adult braces, 6 month smile London braces move teeth gently with a low force. Many people mistake accelerated braces simply tighten harder to get the teeth moving. Six Month smiles London utilises standard orthodontic mechanics, but with an emphasis on the cosmetic appearance of your teeth rather than the position of your bite.
Do Six Month Smiles braces damage the teeth, roots, or gums?
There are no more risks of root damage or other issues than those associated with traditional orthodontics. Since the forces used with Six Month Smiles braces are lighter and teeth are seldom extracted, there are even fewer risks involved with Six Month Smiles London.
Will it be obvious that I'm wearing braces?
No! Six-month smiles London uses clear braces which you can barely see.
Will I have to wear a retainer after my 6 month smile London treatment?
In short, yes.
Much like any teeth straightening treatment, a retainer is necessary to maintain the straight position of your teeth. However, if a removable retainer is too much of an inconvenience, you also have the option of a bonded retainer. It comes down to your personal preference and suitability.
How do I know if Will I be suitable for 6 month smile London treatment?
If you are an adult with crooked or spaced teeth and you're not looking for a major alteration to your bite, this could be the solution for you. Most adults are candidates for Six Month Smiles. Please get in touch with our team of specialist dentists in London if you're interested in six-month smiles London.
Click here for more information and consent












CHAT LIVE WITH US
OR

ask us a question
St Johns Wood
02073281200