Before and After Gallery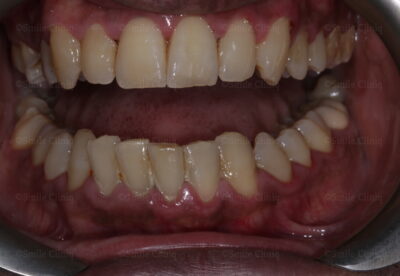 Before
After
Gum Disease Treatment & Gum Treatment London
Get yourself the gum disease London treatment you need from the multi-award-winning dentists at Smile Cliniq. We also offer gingivitis treatment and gum treatment at an affordable cost.
Gingivitis Treatment – Do You Need It?
Gingivitis is surprisingly common, with many people suffering from the disease (and therefore not seeking the appropriate gingivitis treatment) without knowing the exact symptoms. It is important to understand the root cause.
What Is Plaque?
Plaque is a mixture of food, bacteria and bacterial waste products that build up on your teeth after eating. When plaque is left on your teeth, the gums initiate an immune response to it. This is the early stage of gum disease known as gingivitis – think of it as an innate and fairly inefficient gum treatment response from the human body. If gingivitis is not treated, the gums can begin to pull away from your teeth, leaving little pockets around the tooth. This pocket traps plaque that can't be reached with a toothbrush. Plaque that is not removed hardens to become tartar (calculus). Plaque and tartar build-up causes further irritation and gum disease. This can lead to bleeding gums, a funny taste in your mouth as well as bad breath. It can also cause the gums to recede. If this occurs, dentine may become exposed and the teeth may become more sensitive to hot and cold.
Gum disease treatment London, as well as gingivitis treatment, involves removing this build-up whilst also making sure the causes are treated as this negates the risk of gingivitis in the future, meaning you can avoid undertaking gum treatment. For more information on how to look after your teeth at home, please click on our oral hygiene guide.
At Smile Cliniq in London, we take gum disease London treatment very seriously and every patient undergoing a dental examination is provided with a periodontal assessment. This will include information directly relating to periodontal treatment costs.
Please click here for more information on gum disease and gum treatment London. Please click here for more information about Laser Gum Treatments and here for gum de-pigmentation (gum bleaching).
Periodontal Gum Disease Specialist London
In certain individuals and in certain cases, the irritation caused by plaque and tartar build-up causes an inflammatory response. This response starts to affect the bone structure supporting your teeth. As time goes on, the pockets get deeper and more difficult to clean, and the gum and bone recede from the roots, so that some of the roots may be visible. As you lose support for your teeth, they may become mobile. This stage is called periodontitis. Periodontitis refers to a number of inflammatory gum diseases affecting the tissues that surround and support the teeth. Please get in touch with a member of our team to discuss periodontal treatment costs.
What Is Periodontitis?
Periodontitis involves the progressive loss of the alveolar bone around the teeth, and if left untreated, can lead to the loosening and subsequent loss of teeth. Periodontitis is caused by bacteria that adhere to and grow on the tooth's root surfaces, along with an overly aggressive immune response against these bacteria. A diagnosis of periodontitis is established by inspecting the soft gum tissues around the teeth with a periodontal probe and by visual analysis of radiographs, to determine the amount of bone loss around the teeth.
Unfortunately, periodontal gum disease is never cured but can be controlled or slowed by an effective oral hygiene regime incorporating both the patient and dental team (culminating in an effective and well-rounded gum disease treatment London program). This includes debridement by the Dentist or Periodontist, and in some cases medicaments to remove bacteria (chlorhexidine) or to encourage periodontal tissue regeneration.
Get in Touch for Information on Gum Disease London Treatment
If you would like to learn more about gum disease treatment London, or if you want to engage with our range of gum treatments (a specific example being our reputable gingivitis treatment) then please do not hesitate to get in touch with a member of a professional team at our dentist London today by calling 020 8003 5489. Please also feel free to enquire after periodontal treatment cost. We pride ourselves on being one of the most cost-effective and advanced providers of a wide and diverse range of different and industry-leading gum disease treatments.
Gum Disease Treatment London FAQs
How much does gum disease treatment cost in London?
The price of your treatment will be determined in your consultation. Get in touch with us now to discuss your gum disease treatment cost in London based on your requirements.
What are the signs of gum disease London?
Your gums bleeding when you brush your teeth, floss or eat hard foods such as apples
Your gums become swollen, red and sore
Gum disease can lead to:
Bad breath and a bad taste in the mouth
Your gums shrinking
Your teeth becoming loose or falling out
Is mouthwash good for gum disease London?
In clinical studies, it's been shown that antibacterial mouthwashes can reduce plaque biofilm, kill bacteria in hard-to-reach places below the gums, and eliminate bacteria on non-tooth oral surfaces including the cheeks, tongue, and more. Mouthwash, along with brushing and flossing., can also help to prevent gum disease.
Can gum disease be reversed by gum treatment London?
Though gingivitis, the earliest signs of gum disease, can be reversed with dental treatment and proper at-home dental hygiene, once gum disease gets to the level of periodontal disease, it cannot be reversed. If you have periodontal disease, all your gum disease specialist London can do is treat it to try and control the infection.












CHAT LIVE WITH US
OR

ask us a question
St Johns Wood
02073281200