Smile Cliniq Dental Work Guarantees
When undergoing any treatment with us here at Smile Cliniq, we want you to feel as comfortable as possible, and that includes with the work we provide and our dental work guarantees. Whether you visit us for treatment at our St John's Wood or Finchley clinics, you will be assured of receiving our 5-year dental warranty, offering peace of mind and the assertion that the dental work we provide is of the highest quality.
Our 5-year guarantee includes any fracture of crown, onlay, veneer, bridge and restoration work (unless otherwise stated), but it does not include any failure due to an underlying tooth fracture, secondary tooth decay, trauma or accidental damage, fracture caused by inappropriate use (e.g. opening bottles) or de-bonding (loosening) or subsequent need for root canal treatment. It is not given on buccal (side restorations) as these tend to fall off over time, depending on your tooth brushing technique and force.
It may not be given on some restorations if there is a high chance of failure, but your dentist will explain this to you on your appointment if this is the case.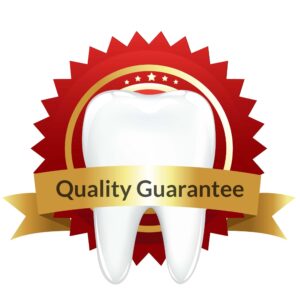 Dental Treatment Warranty
We are proud to offer our dental patients the highest quality treatment so that you can be fully confident in any work that is undertaken by our expert, qualified dentists and medical team. In the first instance, if you need to make a claim during the 5-year warranty period, please contact us as soon as possible so that we can book you in for restoration treatment.
As detailed above, we will cover during this period any work not related to accidental damage or underlying issue, but we will fully assess your issue at the time of contact to be able to confirm if your claim can be made under our warranty.
Dental Work Guarantee & Fees
As one of London's premium dental practices, at Smile Cliniq we want you to experience only the best dental treatment you can find. Our fees reflect the quality of the materials we use and the highly trained staff we employ to perform our treatments. Much like our dental work guarantee, our dental treatment fees are subject to the type of work being carried out. We will design a personalised treatment plan individualised to your requirements which will be outlined during your initial consultation with us. We offer a dental plan to help spread the costs of dental treatment also, with their many benefits of becoming a scheme member with Smile Cliniq.
If you have any questions about our 5-year guarantee then don't hesitate to contact us to find out more by emailing to [email protected] or calling directly to our Finchley or St John's Wood clinic.












CHAT LIVE WITH US
OR

ask us a question
St Johns Wood
02073281200