LAPT Therapy in London
Laser-Assisted Periodontal Treatment (LAPT therapy) is like a laser-assisted new attachment procedure (LANAP). Both techniques attack bacteria, but each uses different styles.
LAPT therapy allows for much more accuracy, and the laser helps reduce common side effects such as bleeding. Our team of the medical staff at Smile Cliniq have years of experience in LAPT therapy. As a result, they have seen first-hand the impact of the treatment.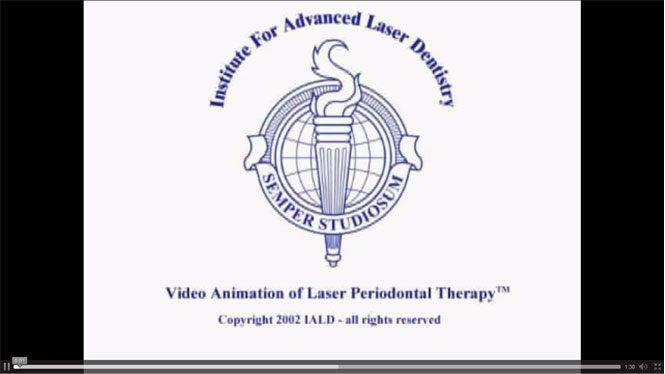 The Procedure – Laser-Assisted Periodontal Treatment
A local anaesthetic part of the treatment given the laser being placed between the tooth and gum. The diode laser removes diseased or infected dental pockets of epithelium from underlying connective tissue. During this process, the light energy from the laser kills bacteria. Since the laser energy is selective for diseased tissue only, the underlying healthy connective tissue is left. In turn, this allows the soft tissues to regrow. This technique is favoured over others that form a pocket seal by long junctional epithelium. This is a crucial part of laser-assisted periodontal therapy because it can help to repair the gums, all without damaging the surface of the teeth.
Indeed, LAPT therapy is without causing trauma to hard tissues or bone during the session. The bacteria removal then allows and encourages the gum to reattach to the tooth. This treatment is proven to strengthen the teeth and create stronger gums.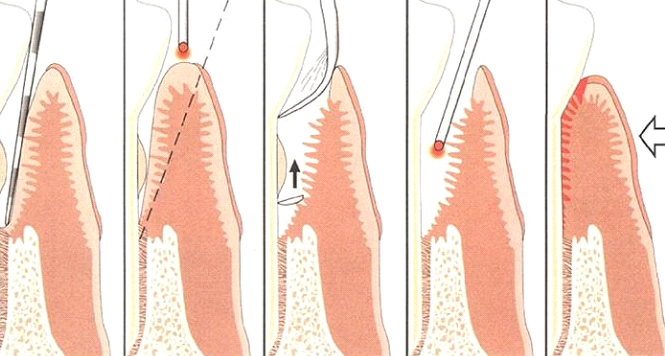 Our laser-assisted periodontal treatment is carried out by trained medical staff and works to heal the teeth and gums. The procedure is over within one day and gives you the relief you need. Due to the laser, bacteria are removed to improve the healing process.
There will be a significant reduction in pain/bleeding/swelling of gums after this procedure. This is because Laser Assisted Periodontal Treatment spares more healthy tissue. This has been proven when compared to root planning surgery.
Laser treatments are painless and bleed less after the surgery. The usual non-surgical debridement must be carried out (to remove plaque and calculus).
Why Choose Smile Cliniq – London's Leading Periodontal Laser Clinic UK
Undergoing laser-assisted periodontal treatment at Smile Cliniq is easier than ever. We book a consultation with you at our periodontal laser clinic the UK to discuss the treatment. We will talk you through LAPT therapy and all the steps involved before you commit to the procedure. Our trained staff are on hand to provide you with everything you need. We make processes such as this as straightforward as possible, all to help you have the perfect smile in no time. Our laser-assisted periodontal therapy can help strengthen teeth, and we have years of experience in the field and state-of-the-art LAPT therapy machinery.
If you are looking to care for your teeth, this is an affordable way to do it as it aids in removing harmful bacteria. This provides a quick and simple solution for healing both your teeth and gums. To
book a consultation for a laser-assisted periodontal treatment get in contact with us today!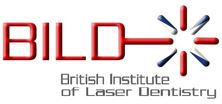 LAPT FAQs:
Can genetics determine periodontal disease?
Research has shown that genetics may be involved in a person's risk for gum disease, but a variety of other factors also play a role. Even if many of your family members or parents suffer from gum disease, this does not mean you will get it, especially if you follow the oral care advice from your dentist and gum specialist in London.      
Can children suffer from periodontal disease?
It's rare to find periodontal disease in children, and it's only sometimes found in teenagers. However, the best periodontist in London always advises that children should still learn the importance of keeping their teeth and gums healthy to prevent periodontal disease in the future. Children should brush their teeth twice a day and learn how to floss properly. If children learn how to floss early, they will be more likely to make it a lifetime habit. These simple habits will help protect their teeth and gums from periodontal disease and lower their chances of having to meet with a periodontist London.
If you have children, it's essential to be aware of the warning signs of periodontal disease, which include red, swollen, bleeding gums or bad breath that won't go away. If you notice any of these in your child, then speaking to a gum specialist in London is key.
Who treats periodontal disease and carries out procedures such as LAPT therapy?
It's always good to have your general dentist and periodontist involved in your care plan and the treatment of your periodontal disease. This will form a successful collaborative approach that will better inform your treatment plan for your individual needs and history. An experienced specialist periodontist usually carries out LAPT therapy.
Does LAPT hurt?
Laser therapy is generally a pain-free procedure. Afterwards, discomfort is minimal, and any sensitivity in the gums is only for a short time. We use a local anaesthetic to numb the infected area to significantly reduce any pain that may be felt during Laser-Assisted Periodontal Treatment – this makes treatment more or less painless.
How Long Does Laser-Assisted Periodontal Treatment take?
The average length of laser gum therapy depends on the treatment plan created beforehand. Usually, laser periodontal therapy (LAPT therapy) takes just one session, which runs for less than an hour. Depending on the severity of the periodontal disease, more than one appointment may be scheduled to achieve the best results.












CHAT LIVE WITH US
OR

ask us a question
St Johns Wood
02073281200