Many think the tooth extraction cost in London is overpriced, however, at Smile Cliniq, we provide an affordable solution to damaged teeth, a crowded mouth or periodontal disease so that you can continue pain and hassle-free.
Tooth Extraction in London
At Smile Cliniq, we believe in preserving the natural tooth structure as much as possible and avoid having to extract a tooth unless it is unavoidable or has a poor long-term prognosis. This is usually when:
The tooth has broken extensively, and therefore not enough tooth structure is left to restore the tooth
A root canal treatment has failed and the tooth is infected and redoing the root canal is not an option
As an alternative solution to root canal treatment for an infected tooth with extensive decay and poor remaining tooth structure.
Tooth extractions at Smile Cliniq are carried out under local anaesthetic to make our tooth extraction in London as painless as possible. We use peristomes and luxators and a gentle extraction technique to preserve as much jaw bone as possible. This, in conjunction with proper tooth extraction aftercare, is important as this will ensure minimal post-operative swelling and pain after tooth extraction, and will also help bone retention for future implant work. Bone retention is also important aesthetically as it avoids the "sunken-in appearance" that people with dental bone loss have.
Please be aware that it is common to experience some post-operative discomfort and swelling and occasional bleeding after extractions, but we use techniques and provide comprehensive tooth extraction in London aftercare advice to keep these side effects and any pain after tooth extraction to a minimum. On rare occasions, nerve damage and sinus involvement are possible but your dentist will warn you if this is a risk in your case.
For wisdom tooth extraction in London please click here.
What Is Tooth Extraction in London Socket Preservation?
After having a tooth extracted, there will be an empty "socket" where the tooth used to be. If the socket is not kept stimulated, the bone that is used to support the tooth starts to resorb and becomes thin and shallow. This can cause a problem when we look at possible treatment options to replace the gap with a partial denture, bridge or dental implant. Tooth extraction socket preservation is the act of minimising bone shrinkage, and therefore preserving the bone's depth and height to allow for a better outcome for a future denture, bridge or implant.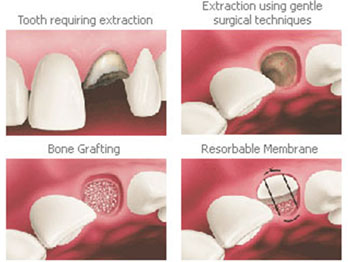 How Does Tooth Extraction in London Work?
Once the tooth has been extracted, a bone graft material is inserted inside the socket. For tooth extraction in London at Smile Cliniq dental practice, we use NuOss™ bone graft material. This is a natural, porous bone mineral matrix, produced by the removal of all-organic components from bovine (cow) bone. Due to its natural structure, NuOss™ is physically and chemically comparable to the mineralized matrix of human bone.
This bone graft material will harden over time and become part of the jaw bone structure, ensuring the provision of sufficient foundation for the placement of future implants, bridges and dentures.
After insertion of the bone graft material, a collagen membrane is placed on top to cover the graft material and allow good healing of the gum tissue. The collagen membrane is sutured into the socket.
Advantages of tooth extraction socket preservation
Prevents the bone from shrinking therefore maintaining horizontal facial bone structure
Less likely for a replacement denture or reline to be needed, as less bone and gum shrinkage
Reduced gap formation under the pontic (part of bridge replacing a missing tooth) of a bridge
Better bone depth and height and therefore a better prognosis when placing a dental implant and less need for future bone graft
Saves 6 months of healing time to have immediate bone grafting compared to having a bone graft once the socket has healed and shrunk.
Risks of Tooth Extraction
This information serves to help you come to an informed decision regarding your dental treatment.
At Smile Cliniq, we strive to ensure the techniques, instruments and materials we use for tooth extraction in London will minimise any tooth extraction risks to our patients. Please note, that any side effects and complications are uncommon to rare with tooth extraction. Some of the complications associated with tooth extraction risks are no different to any other extractions or oral surgery that you may have experienced previously, the difference being you are now more aware of them. Always follow the tooth extraction aftercare plan provided by your dentist.
There may be some swelling, discomfort or pain after tooth extraction, and this may require pain killers to be administered. There may also be some bleeding of the socket following the procedure. This is usually minor and is easily controlled by applying pressure to the area with a pack given at the time of the extraction.
Swelling and or bruising and discomfort in the extraction site
Dry socket – localised infection and pain after tooth extraction in the tooth socket beginning a few days after the extraction. It is more common from the extraction of lower teeth especially wisdom teeth.  It is also more common in smokers, patients with poor oral hygiene and diabetic patients. This may cause some pain and discomfort but is usually easily managed by the oral surgeon/dentist.
Bruising to the area of the injection and or overlying skin in the area of tooth extraction.
With lower wisdom teeth removal, numbness or altered sensation in the teeth, lip, tongue and chin due to the proximity of the roots of the tooth to the inferior alveolar nerve which can be bruised or injured. Altered sensation after an extraction is usually reversible but in very few instances can be permanent (around 1%).
Biting of the numb lip may cause trauma to the lip after the teeth have been extracted.
Possible damage to the teeth adjacent to the one being extracted especially ones growing closely nearby or with large fillings or crowns
Trismus – limited jaw opening due to inflammation or swelling. This is most common after wisdom tooth extraction in London. Sometimes it can result in jaw discomfort, especially where there is pre-existing TMJ disease.
Bleeding – It is not common to get significant bleeding after tooth extraction, but persistent oozing of the extraction site can occur
Sharp ridges or bone splinters may form at the edge of the socket sometime after the extraction of the tooth. These may need to be removed to minimise the risk of damage and pain after tooth extraction.
Incomplete extraction of tooth fragments. Sometimes small root tips can be left in place in order to avoid injury to vital structures such as nerves or sinuses.
Sinus involvement – The roots of the upper back teeth are often close to the maxillary sinus and sometimes a piece of root can be displaced into the sinus, or an opening may occur in the mouth which may require additional treatment.
Jaw fracture – This is extremely rare but possible in difficult or deeply impacted teeth.
Weakness of the jaw due to the removal of the wisdom teeth.
The tooth root tip may break off into small pieces when the tooth is extracted. The oral surgeon/ dentist may or may not remove these pieces depending on the clinical picture. If there is a chance that the nerves or other structures may be damaged during tooth extraction, they may be left alone.
If the upper teeth are close to the sinuses, tooth extraction in London may cause a hole (oral- antral communication) between the mouth and the sinus. This may require further surgery to correct.
Rarely, the root (normally of an upper molar tooth) may dislodge and go into the maxillary sinus. This may need further surgery to remove it and resolve.
Most extractions are routine and serious complications are not expected. Those which do occur are most often minor and can be easily treated. To ensure efficient healing and to avoid complications it is recommended that you adhere strictly to the tooth extraction in London aftercare instructions given by your dentist.
If you would like to know more about socket preservation, dental implants, dentures or bridges, or painless dentistry, please contact us to book a consultation at our dentist London.
Tooth Extraction London FAQs
How much does tooth extraction cost in London?
Depending on your requirements will depend on the tooth extraction cost in London. Here is a table of prices:
Routine – from £180 (with membership from £153)
Surgical/Complex – from £250 (with membership from £212.50)
Socket preservation – from £250
Wisdom teeth – from £150-350
How long does it take to recover from a tooth extraction London?
Typically, your oral surgeon will ask that you at least take about 48-72 hours to relax afterwards so the treatment area is allowed to clot. After that, a patient should be able to return to normal physical activity. The soft tissue will usually fully heal in about 3-4 weeks.
Is tooth extraction London painful?
Many patients find it to be painless and for the discomfort to only last a split second. From that point on, you should not feel any pain at all. Although, you may feel pressure from the movement of the tooth, which the anaesthetic does not prevent.
What can't you do after a tooth extraction?
Avoid rinsing or spitting forcefully for 24 hours after the extraction to avoid dislodging the clot that forms in the socket. After 24 hours, rinse your mouth with a solution made of 1/2 teaspoon salt and 8 ounces of warm water. Do not drink from a straw for the first 24 hours.
For More Information and Consent Click Here












CHAT LIVE WITH US
OR

ask us a question
St Johns Wood
02073281200