Tooth Extraction London
For wisdom tooth extraction please click here.
At Smile Cliniq, we believe in preserving the natural tooth structure as much as possible, and avoid having to extract a tooth unless it is unavoidable or has a poor long term prognosis. This is usually when:
The tooth has broken extensively, and therefore not enough tooth structure is left to restore the tooth
A root canal treatment has failed and the tooth is infected and redoing the root canal is not an option
As an alternative solution to root canal treatment for an infected tooth with extensive decay and poor remaining tooth structure.
Tooth extractions at Smile Cliniq are carried out under local anaesthetic to make extractions as painless as possible. We use periotomes and luxators and a gentle extraction technique to preserve as much jaw bone as possible. This is important as this will ensure minimal post operative pain and swelling, and will also help bone retention for future implant work. Bone retention is also important aesthetically as it avoids the "sunken in appearance" that people with dental bone loss have.
Please be aware that it is common to experience some post operative discomfort and swelling and occasional bleeding after extractions, but we use techniques to keep these side effects to a minimum. On rare occasions, nerve damage and sinus involvement is possible but your dentist will warn you if this is a risk in your case.
Socket Preservation
What is socket preservation?
After having a tooth extracted, there will be an empty "socket" where the tooth used to be. If the socket is not kept stimulated, the bone that used to support the tooth starts to resorb and becomes thin and shallow. This can cause a problem when we look at possible treatment options to replace the gap with a partial denture, bridge or dental implant. Socket preservation is the act of minimising bone shrinkage, and therefore preserving the bone's depth and height to allow for a better outcome for a future denture, bridge or implant.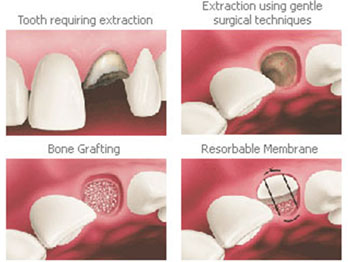 How does it work?
Once the tooth has been extracted, a bone graft material is inserted inside the socket. At Smile Cliniq dental practice in London, we use NuOss™ bone graft material – A natural, porous bone mineral matrix, produced by the removal of all organic components from bovine (cow) bone. Due to its natural structure, NuOss™ is physically and chemically comparable to the mineralized matrix of human bone.
This bone graft material will harden overtime and become part of the jaw bone structure, ensuring provision of sufficient foundation for placement of future implants, bridges and dentures.
After insertion of the bone graft material, a collagen membrane is placed on top to cover the graft material and allow good healing of the gum tissue. The collagen membrane is sutured into the socket.
Socket preservation after having a tooth extracted has several advantages:
Prevents the bone from shrinking therefore maintaining horizontal facial bone structure
Less likely for a replacement denture or reline to be needed, as less bone and gum shrinkage
Reduced gap formation under the pontic (part of bridge replacing a missing tooth)of a bridge
Better bone depth and height and therefore a better prognosis when placing a dental implant and less need for future bone graft
Saves 6 months healing time to have immediate bone grafting compared to having bone graft once socket has healed and shrunk.
If you would like to know more about socket preservation, dental implants, dentures or bridges, or painless dentistry, please contact us to book in for a consultation at our dental practices in London.
For More Information and Consent Click Here












CHAT LIVE WITH US
OR

ask us a question