Inhalation Sedation For Kids
We understand that dental treatment can be a stressful experience for both parents and children. That's why at Smile Cliniq Children's dentist we offer inhalation sedation as a safe and effective solution to help your child relax during dental procedures.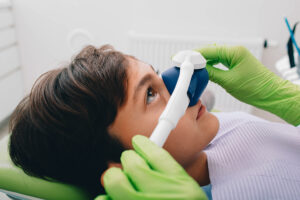 What is Inhalation Sedation for Kids?
Inhalation sedation, commonly known as "laughing gas" is a combination of nitrous oxide and oxygen that is inhaled through a small mask placed over the nose. Its used to help reduce anxiety and help children relax and feel more at ease during dental treatments. It is suitable for children aged 4+.
How Does Inhalation Sedation Work?
Administration: A certified paediatric dentist in our London clinic will administer the nitrous oxide through a small mask that fits comfortably over your child's nose. T

he dentist adjusts the amount of sedation depending on the patient's needs and the procedure

Relaxation: Nitrous oxide helps your child feel calm and relaxed without making them unconscious. They will remain conscious and able to communicate throughout the procedure.
Pain Management: While inhalation sedation helps with relaxation, local anaesthesia is still used to ensure that your child doesn't experience any pain or discomfort during the dental procedure.
Benefits of Inhalation Sedation for Kids:
Safe and Proven: Nitrous oxide is a safe and widely used sedation method for children from the age of 4.
Rapid Onset and Recovery: It takes effect quickly and wears off just as fast, allowing your child to resume normal activities after the appointment.
Reduces Anxiety: Inhalation sedation helps reduce anxiety and fear associated with dental procedures, making it easier for both you and your child.
Non-Invasive: No needles or injections are required for administration, which is especially comforting for children.
Remaining Conscious:

It does not make the patient unconscious; they remain alert and can respond to instructions.

Adjustable Dosage: The level of sedation can be adjusted to suit your child's specific needs.
Why Choose Our London Clinic for Inhalation Sedation?
Our  experienced paediatric dentist – Dr Sarah Bux in London is dedicated to providing the best possible care for your child. Here's why you should choose us:
Expertise: Our dentist is highly trained in paediatric care and have extensive experience in using inhalation sedation for children in community dental settings.
Child-Friendly Environment: Our clinic is designed with children in mind, creating a welcoming and comfortable atmosphere.
Compassionate Care: We prioritize your child's well-being and strive to make every visit as stress-free as possible.












CHAT LIVE WITH US
OR

ask us a question
St Johns Wood
02073281200