Children's Dental Emergency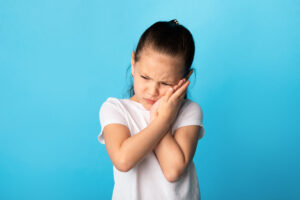 Welcome to Smile Cliniq's Children's Dental Emergency in London
When a dental emergency strikes your child, it's essential to have access to a trusted dental practice.  At Smile Cliniq Children's Dental Emergency Care in London, we understand the urgency and anxiety that can come with such situations. That's why our team of dentists are dedicated to providing emergency dental care for kids, ensuring their comfort and well-being.
Common Paediatric Dental Emergencies
Children can face various dental emergencies, and knowing how to respond is crucial. Here are some common dental emergencies your child might encounter:
Toothache: Sudden, severe toothaches can be caused by tooth decay, abscesses, or injuries. Contact us immediately if your child complains of persistent tooth pain.
Knocked-Out Tooth: If your child's tooth gets knocked out due to an accident or injury, try to keep the tooth moist and bring it to our clinic as soon as possible.
Broken or Chipped Tooth: Fractured teeth can be painful and require immediate attention. Preserve any broken tooth fragments and contact us right away.
Loose Baby Tooth: If your child has a loose baby tooth, it might be ready to come out. Gently encourage them to wiggle it out. However, if it's causing significant pain, contact us.
Bleeding Gums: Persistent bleeding from the gums can be a sign of gum disease or other oral health issues. Seek professional help to address the root cause.
Abscess: Dental abscesses can be extremely painful and may result in swelling or fever. Contact us for immediate care.
Why Choose Children's Dental Emergency Care in London?
Paediatric Expertise: Our paediatric dentist specialises in treating children, ensuring they receive gentle and compassionate care tailored to their unique needs.
Advanced Technology: Our practice is equipped with state-of-the-art dental technology to deliver effective treatments.
Comfortable Environment: We prioritize creating a child-friendly and comfortable atmosphere to reduce anxiety and fear.
Inhalation Sedation: We provide inhalation sedation in the practice so your child can get treatment under sedation without having to ho to a hospital where the waiting times are long and can be very scary setting for a child, which can increase in anxiety.
If your child is experiencing a dental emergency, don't hesitate to contact us:
Phone: Call us at 02083281200
Location: Find us at 138 Ballards Lane, Finchley Central, London, N3 2PA
Email: Reach out to us at [email protected].
Convenient Opening Hours: We are open on till late and on Saturdays*.
Preventing Dental Emergencies
While we're here to help in emergencies, prevention is key. You can prevent dental treatment for your children by following the these tips:
Maintaining good oral hygiene by brushing and flossing regularly
Attending regular dental check-ups

Use of mouth guards for contact sports.

Childproof homes to avoid falls.
First Aid Advice:

Baby knocked out tooth:
If your child knocks out a baby tooth, you shouldn't try to re-implant it because you may damage the adult tooth growing underneath. Take your child to see a dentist immediately.
Adult  knocked-out tooth:
find the tooth

hold it by the crown (the white bit that sticks out of the gum)

rinse the tooth clean if it's dirty

put it back into position (adult teeth only, never try to re-insert a baby tooth)

bite on a handkerchief to hold the tooth in place

go to see a dentist as an emergency
If you can't put the tooth back in position, put it in milk or saliva and see a dentist straight away.
The sooner a knocked-out tooth is re-implanted, the more likely it is to embed itself back into the gum.
**For best chances of success the tooth needs to be inserted into the socket within the first hour
Chipped Tooth:
If a tooth is chipped or fractured, save any broken pieces.
*Selected days of the week












CHAT LIVE WITH US
OR

ask us a question
St Johns Wood
02073281200