Fed up of loose dentures? Have a small gap that you would like to place an implant in but without the cost? Mini dental implants maybe the answer for you. Mini Dental Implants Cost From £1400 (or £50 per month)
Choose Mini Dental Implants London at Smile Cliniq
At Smile Cliniq you can take advantage of a service in which we place mini implants to replace small teeth or to secure a loose denture, they can even be used for anchorage for orthodontic treatments.
What Do Mini Dental Implants London Look Like?
Mini implants are ultra-small diameter, biocompatible titanium alloy implant screws that are as strong as a normal-sized conventional implant. It takes the form of a slim titanium screw with a retaining fixture that can be incorporated into a denture. The retaining fixture (meta housing) contains a rubber 'O-ring' that acts like a socket.
This 'O-ring' holds a denture in place by snapping over the ball on the top of the implant. This enables the denture to rest easily but securely on top of the gum tissue.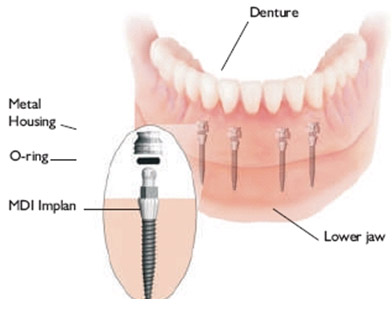 Who Would Choose a Mini Dental Implant?
Patients with loose dentures, with small gaps or those for whom conventional implants are not suitable. Also, patients undergoing orthodontic treatment, do not want to have extra-oral anchorage (headgear).
Are Mini Implants reliable?
Yes, with very high long-term success rates.
What Is The Procedure For A Loose Denture Solution?
The procedure is quicker than that for a normal dental implant. Due to their size, they cause little or no discomfort and are placed gently in the jawbone.
Your London dentist will administer a local anaesthetic to start with. He will drill a small hole in the jawbone to create a space for the placement of the dental implant.
If we are using the dental mini implants London to secure a denture, then the denture will be marked at a series of 'points' to show the position of the implants. Each of these points will have a metal attachment added which anchors the denture to the implant. This process usually takes around an hour.
How Much Do Dental Mini Implants London Cost?
Mini dental implant costs vary according to individual cases but this type of implant costs much less than the normal size. Costs will be in the region of £1400. Please see here for our free guide.
What Are The Benefits Of Mini Dental Implants London?
There are many benefits to mini dental implants London, including:
Mini dental implants are smaller and easier to place, which leads to a much more affordable option for patients
They can also be used to secure a bridge over the top of your teeth or a pair of dentures
There are more secure dentures and less likelihood of them falling out
They provide better comfort and allow you to eat a wide variety of foods more confidently
They are very good for restoring small gaps, where a conventional implant is too big
For further information on tooth extractions and socket, preservation click here
Risks of Mini Dental Implants London
Mini implants are less stable – Overall, mini implants tend to be less stable than traditional dental implants. This is why multiple mini implants are often used to stabilize a set of implant-supported dentures or an implant-supported dental bridge.
Not a good option if you grind your teeth – Teeth grinding can damage and wear down mini-implants much more quickly than traditional implants. However, proper care like a night guard can prevent this issue.
Jaw bone still must be healthy – Even though you don't need as much bone material as a traditional implant, you still must have a healthy jaw bone with enough vertical bone support to accommodate a mini implant.
Mini Dental Implants London FAQs
How long do dental mini implants London last?
Patients should expect to get around a 6–9-year success from mini dental implants, in comparison to conventional implants that should be successful for over 15 years or much more if maintained correctly.
Are mini dental implants London worth it?
A dentist is more likely to prefer implants over other replacement teeth options because they are the option that most closely mimics natural teeth. But not everyone has strong enough bone in their jaw to get traditional implants.
What is the difference between a dental implant and a mini dental implant London?
Mini implants are smaller than regular implants. While mini implants are about the thickness of a toothpick, regular implants are about 3.4 to 5.8 millimetres in diameter. Because mini implants are so small, they can be used for smaller teeth. Mini implants do not use abutments or screws as regular implants do.
What is the success rate of mini dental implants London?
The mini dental implants used in these procedures have been demonstrated to have high success rates. Over a 12-year period, 5640 mini dental implants were placed with overall survival of 92.1%.












CHAT LIVE WITH US
OR

ask us a question
St Johns Wood
02073281200