Zygomatic Implants are used when there is insufficient bone to hold a normal dental implant. The difference between a Zygomatic Implant and a normal dental implant is that the former is longer and is placed diagonally into the cheek bone (zygoma), to make use of the extra bone here.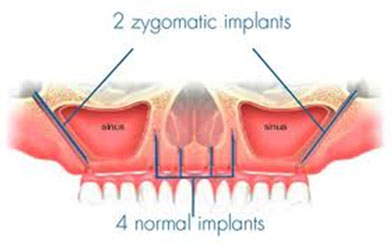 Zygomatic Implants Explained
Usually after extracting a tooth, the bone that held the tooth starts to shrink.  In some cases, the shrinkage is severe resulting in insufficient bone to hold a dental implant. This usually means a sinus lift and bone graft is required to build up bone structure and achieve better stability.
In certain cases, we can place longer Zygomatic implants into the cheekbone, giving better stability and strength to hold an implant retained bridge, and thus sometime negating the need for a bone graft.  Zygomatic implants are placed carefully avoiding the sinuses, also eliminating the need for sinus lifts.
The Benefits of a Teeth in a day zygomatic implant
Dental implants are a great solution to replace missing teeth but can involve a 6-month period of waiting for the implant to fuse with bone before placing teeth onto the implants. With a Zygomatic Arch, you can place a bridge onto the implants straight away; therefore you will walk out of the surgery with a brand new smile.
To find out if a Zygomatic Arch is an option for you, why not book an appointment at our dentist in London. Other dental implant treatments are also offered at Smile Cliniq in London such as dental mini-implants and All on 4 implants.
What our patients say?
Testimonial 1:
Dear Dr. Chetan Kaher,
I would like to thank you for your excellent care you gave me throughout my implant process. I am now able to bite properly into hard foods such as apples, without fear. I have also noticed that I am no longer shy when smiling!
I was very impressed that you and your surgeon, Dr Adeel Ali, answered my numerous queries and concerns promptly and reassuringly. I had come to your practice after visiting two other practices, one of whom advised that due to the thinness of my bone I was not suitable for "All-on-4" implant. Dr Ali assured me that by angling the screw he was able to do the implant. I was further impressed by Dr Ali's portfolio of work and the transformations he made to his patients' lives.
I found your and Dr. Ali's care and treatment plans informative and comprehensive. The risks were clearly identified and formed the basis of my questions in helping me make up my mind to go ahead with the surgery. You also took time to inform my partner about the treatment and answer her queries.
Although I have Parkinson's due to your considerate care it did not affect the treatment. In the event this was largely pain free.
Your teamwork approach was exemplified by your dental technician who provided valuable advice and came to see me and make final adjustments to the permanent implants despite the fact that it was his day off.
To sum up, the result of my implant has exceeded my expectation and is simply brilliant, and I am deeply grateful for the exceptional care you gave me.
Andrew George
Testimonial 2:
Dear Dr. Kaher.
It has been over 18 months since you did the upper implants for me. I just cannot stop smiling, what you and your team did for me, has been life-changing and I shall be forever thankful. Life has moved on for me in so many ways for the better.
Yours faithfully, Martin Ryan.
Choose Smile Cliniq for Zygomatic Implants
Undergoing zygomatic Implants surgery at Smile Cliniq is easier than ever. We book a consultation with you at our specialist clinic in London to discuss the treatment. We will talk you through all the steps involved before you commit to the procedure. Our trained staff are on hand to provide you with everything you need. If you are looking to create a brand-new smile, this is an affordable way to do it. To book a consultation for zygomatic implant surgery, get in contact with us today!
Zygomatic Implants FAQS
What are zygomatic implants?
Zygomatic implants are a solution for people with severe bone loss. Specifically, it is a solution when the loss of bone in the mouth is so severe that it is impossible to place regular implants safely. They are longer than regular implants, anchor in the cheekbone, and offer four stabilizing points for a fixed denture. Discover here the zygomatic implants indications and diagnostic.
How do I know if I need zygomatic implants?
Before you opt for zygomatic implants in London, a thorough, precise diagnostic and treatment plan is vital. This type of therapy should only be a solution when severe bone loss is present. The lack of bone preventing the placement of regular dental implants is the right indication. Please get in touch with our specialist team of dental surgeons to discuss your needs and options for zygomatic implant surgery.
How much do zygomatic implants cost?
The zygomatic implants cost UK starts from £10,000 on average. This doesn't include your initial consultation and crowns (if needed). The zygomatic implants costs are high, but should you need them, they are life changing.
How do I keep my mouth clean after zygomatic implant surgery?
Mouth and dental hygiene after zygomatic implant surgery is essential for recovery. Mouth rinsing should not be started until 24 hours after surgery. Use 1/4 teaspoon of salt dissolved in an 8-ounce glass of warm water and gently rinse with portions of the solution, taking five minutes to use the entire glassful. Repeat as often as you like, but at least two or three times daily. You may be given a prescription mouthwash as well, please follow the instructions on the bottle and swish for 30 seconds three times a day. It's important that you don't use high street mouthwashes such as Scope® or Listerine® as they contain alcohol which is detrimental to wound healing.
What is the zygomatic implants success rate in terms of durability?
The zygomatic implants success rate is very good considering they are inserted into the thick, dense cheek bone which provides maximum support. Implants like these abstain from bone resorption with age or any other medical condition, hence why the zygomatic implants success rate (durability) is longer than conventional implants which are more likely to be affected by jawbone modulations with age or with any medical condition.












CHAT LIVE WITH US
OR

ask us a question
St Johns Wood
02073281200