Fluoride Varnish for Kids in London: Protecting Little Smiles
Welcome to Smile Cliniq Children Dentist London, where we prioritize your child's dental health and happiness. We understand that every little smile is unique and special. One crucial aspect of children's dentistry in London is the application of fluoride varnish, a simple yet highly effective treatment to safeguard your child's dental well-being.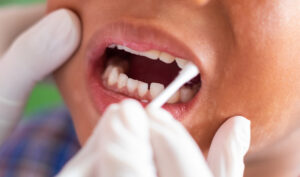 What Is Fluoride Varnish?
Fluoride varnish is a thin, protective coating applied to your kids' teeth. It contains fluoride, a natural mineral that has been proven to strengthen tooth enamel and prevent cavities. This treatment is specifically designed for children's dental care and is a painless and quick procedure.
Why Is Fluoride Varnish Important for Kids?
Fluoride varnish offers several essential benefits for your child's oral health:
Cavity Prevention: Fluoride varnish provides an extra layer of defence against tooth decay, reducing the risk of cavities.
Strengthening Tooth Enamel: It helps strengthen and protect your child's teeth, making them more resistant to acid attacks from sugars and plaque.
Safe and Painless: Application is quick and comfortable, ensuring a positive experience for your child.
London's Water Supply: While London's water supply contains fluoride, topical fluoride applications provide targeted protection where it's needed most.
Why Choose Smile Cliniq Children's Dentist London?
At Smile Cliniq, we specialize in children's dentistry in London. Our team of experienced and friendly paediatric dentists understands the unique needs of young patients. When you bring your child to us for fluoride varnish application, you can expect:
Expert Care: Our dentists are highly trained and experienced in working with children, ensuring a gentle and comfortable experience.
Child-Friendly Environment: Our clinic is designed to be welcoming and reassuring for young patients, helping them feel at ease during their visit.
Personalized Treatment: We tailor our fluoride varnish applications to suit your child's specific needs, ensuring the best possible protection.
Schedule an Appointment
Protecting your child's smile begins with a simple, painless fluoride varnish application at [Your Dental Clinic Name]. Don't wait until dental issues arise; be proactive in safeguarding your child's oral health. Contact us today to schedule an appointment with our expert paediatric dentists in London.












CHAT LIVE WITH US
OR

ask us a question
St Johns Wood
02073281200