Before and After Gallery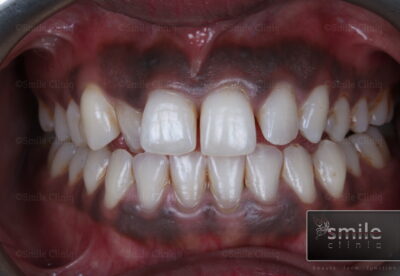 Before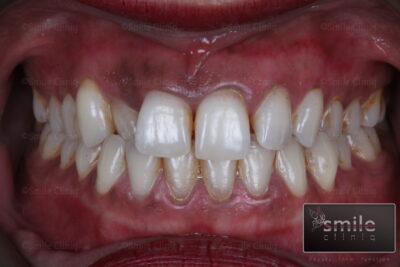 After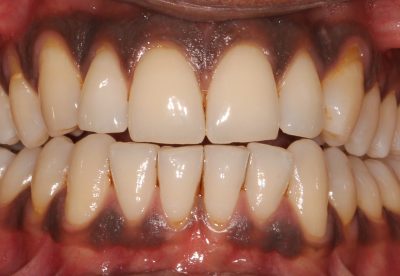 Before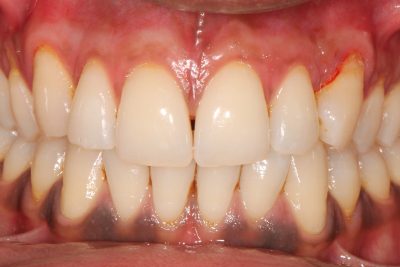 After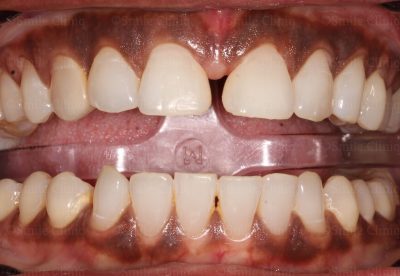 Before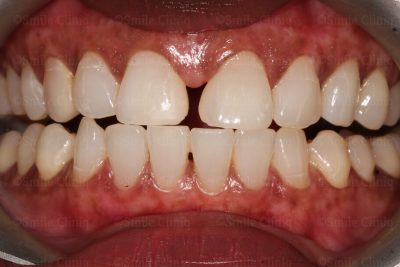 After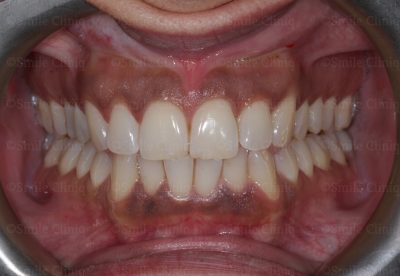 Before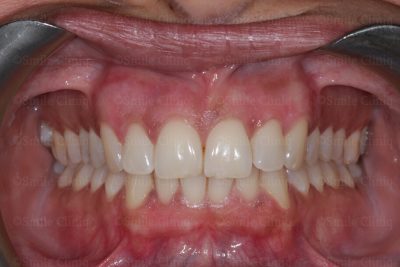 After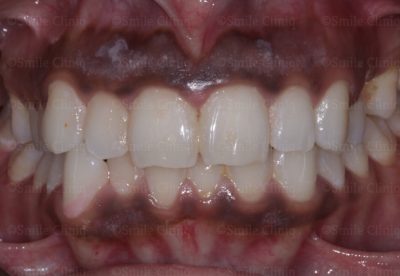 Before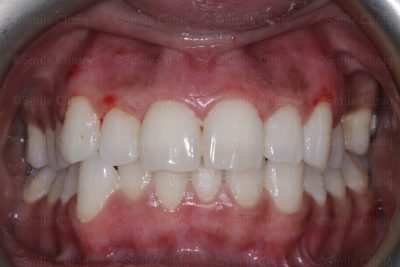 After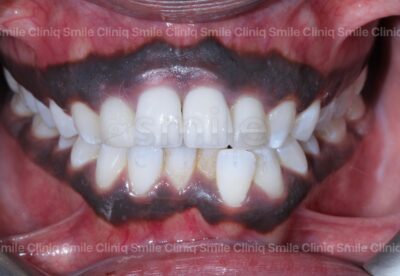 Before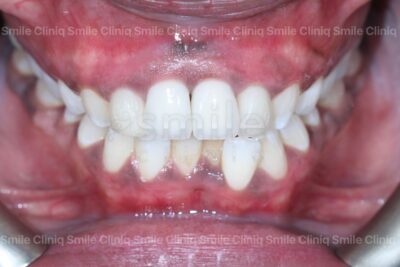 After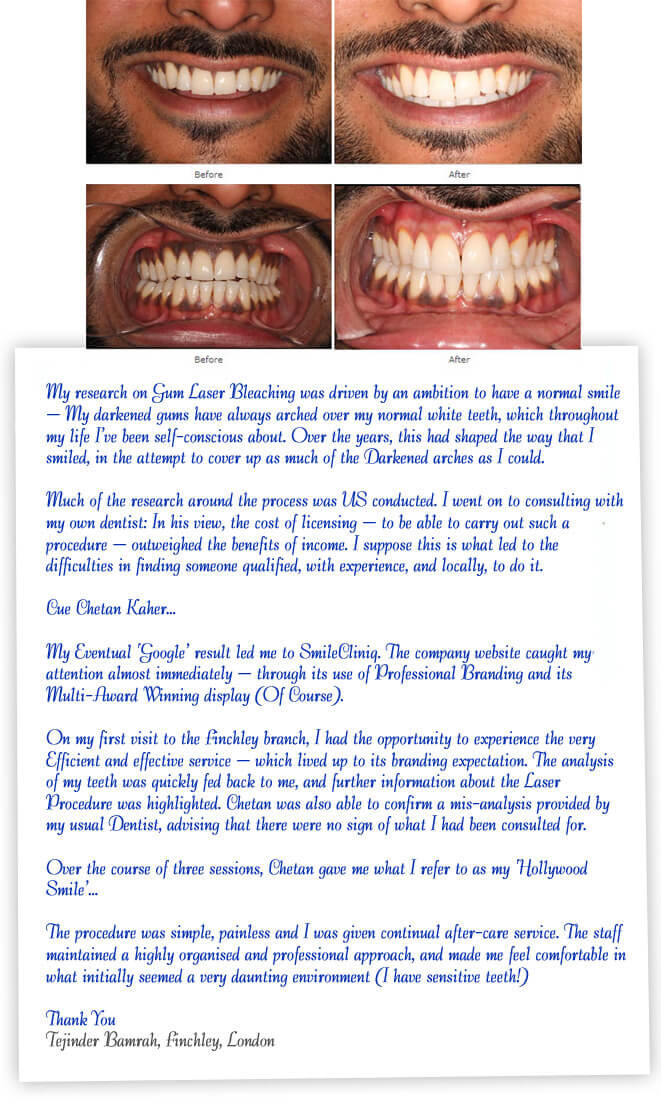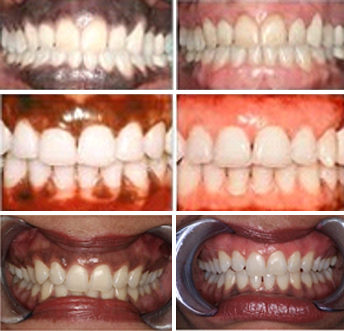 What Is Laser Gum Bleaching?
Laser gum bleaching or lightening is known as different things such as dark gum treatment, gum bleaching, gum lightening, gum whitening, and gum depigmentation. It describes the procedure of using a minor surgical process to remove discolouration from the gums.
People have different natural gum tones. Often, darkening of the gums can occur because of an irritant or staining and isn't a person's natural gum colour. However, due to the gum bleaching procedures we offer, there is a way to remove dark pigmentation from the gums to restore the natural, healthy-looking pink
Gum Bleaching (Gum Depigmentation Solutions) in London
Darkened Gums? Gums may be described as the frame to the picture of the teeth to create a beautiful-looking smile portrait. It is important to have beautiful healthy-looking gums as well as teeth to get a lovely overall smile. Laser gum bleaching is a new way to brighten your teeth with long-term results.
Excess melanin or long-term use of certain medications can cause patches/black spots on the gum. Although not detrimental to health, this may be considered by the patient as not aesthetically pleasing. People who have darker skin are more susceptible to melanin build-up on the gums. Therefore, the benefit of gum bleaching is that it can help to keep the teeth healthy and white. Melanocytes (cells in the soft tissues that are responsible for producing melanin) are targeted by the laser. This means that their rate of producing melanin is reduced. The gum bleaching procedure is quick and painless. In most cases, the treatment can be completed in just one visit. This allows the patient the option to leave the surgery with pink, healthy-looking gums on the same day. The procedure removes gum depigmentation and helps the teeth remain healthy in the long term.
Gum discolouration can be caused by amalgam (silver) filling particles that have been absorbed into the gum. Certain types of medication or smoking can cause gums to darken over time as well. By using laser gum depigmentation services, you can have a picture-perfect smile. Though this is not a substitute for cleaning your teeth, it can help to remove pigmentation.
Procedure for Gum Bleaching
We initially carry out a detailed assessment to determine the amount and type of pigmentation that is needed for the gum bleaching.  We will then provide a detailed treatment plan including the costs of laser gum bleaching.
We use the latest Class 4 Diode laser to carry out the gum bleaching procedure. There will also be some anaesthetic to minimise any discomfort felt. In most cases, it is finished in just one 20-minute appointment. Some patients do need to have touch-up treatments, but this is dependent on the depth of pigmentation.
Healing time is quick, in a matter of days, for the vast majority of patients. This makes laser gum depigmentation an affordable way of caring for your teeth. This is because it provides minimal discomfort during and after the treatment.
How Long Does Gum Bleaching Last For?
The results of a single session of gum bleaching can last for up to a period of 20 -25 years and in some cases even a lifetime. However, each patient is different and needs to be assessed individually. We pride ourselves on giving you a laser gum bleaching cost that is affordable. Our medical staff have years of experience with laser gum bleaching and are on hand at every stage.
Regardless of the amount of discolouration that you have, we are sure that gum bleaching can work for you. We will provide you with everything that you need to enjoy your smile and limit the pain felt. Get in contact with us today at our dentist London to begin tackling your laser gum depigmentation problem.
Laser Gum Bleaching FAQs
Is gum depigmentation permanent?
Yes. Gum depigmentation is permanent. With the arrival of lasers, gum depigmentation procedures are showing great results. The chances of the recurrence of gum pigmentation are almost zero when you have laser gum bleaching. Although the possibility of a relapse is small, factors such as smoking, sun exposure and genetic factors can influence the duration.
Is laser gum bleaching painful?
No. The procedure is minimally-invasive and will not cause significant discomfort. You will be numb while the dentist works on your mouth. You'll be given local anaesthesia before the procedure starts. This will numb your gums so you won't feel pain while the doctor is working on your mouth. But you can expect some tenderness and numbness afterwards. The amount of discomfort depends on how much of your gums had to be reshaped or removed.
Can you fix black gums?
Treatment for black gums will depend on the underlying cause. Conditions such as gum infections or Addison's disease will usually need treatment with medication. It may be possible to reverse changes in gum colour that are caused by smoking. A doctor should be able to give advice and support on quitting smoking.
Is laser gum bleaching worth it?
Gum depigmentation is a safe and effective way of treating discoloured gums.
How long does it take for gums to heal after gum depigmentation?
The length of time it will take your gums to heal depends on the severity of your gum disease. It can take anywhere from 2 – 4 weeks, while deeper pockets can take months to completely heal. Because your mouth will be tender and inflamed, a soft food diet is advised for the first few days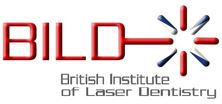 CHAT LIVE WITH US
OR

ask us a question
St Johns Wood
02073281200