Before and After Gallery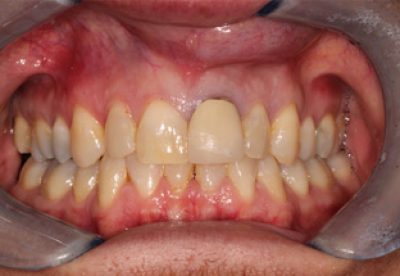 Before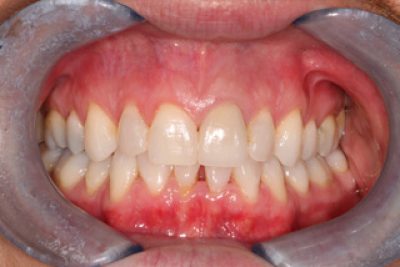 After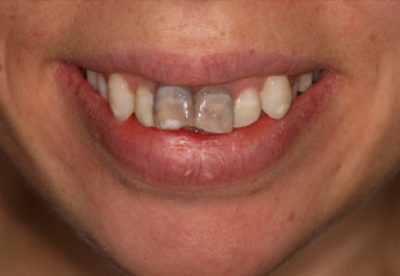 Before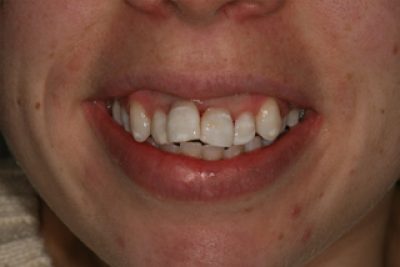 After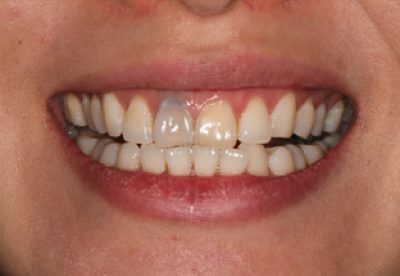 Before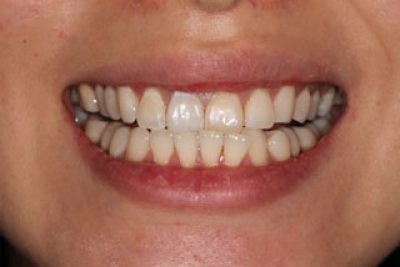 After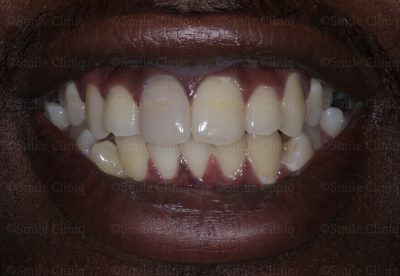 Before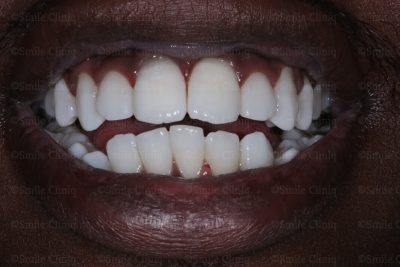 After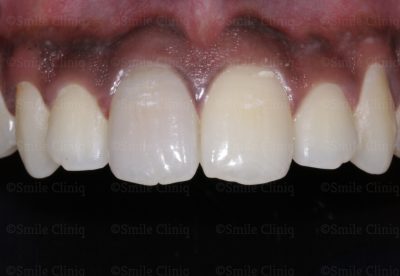 Before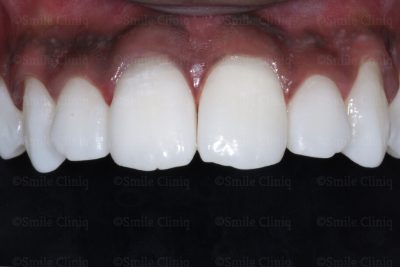 After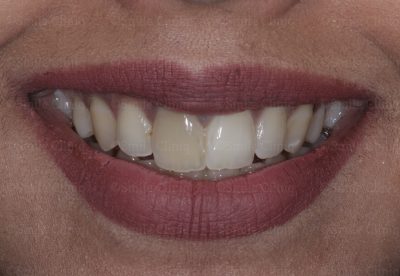 Before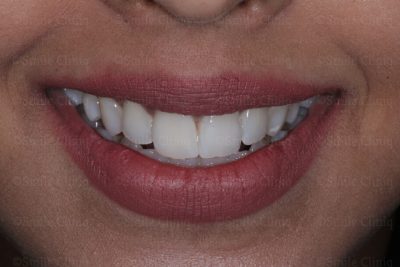 After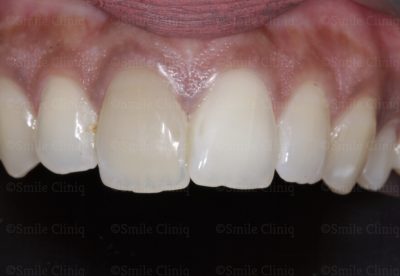 Before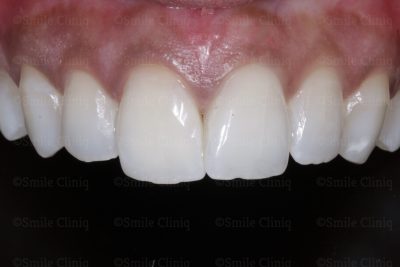 After
Internal Tooth Bleaching: Black Teeth Treatment London
A dark, discoloured, black tooth is a sign your tooth may have died or is partially dead, most likely due to previous trauma or deep decay. Dark tooth treatment will involve initially undergoing root canal treatment if the tooth has not already been treated. This procedure is when the root canal chamber containing the nerve is emptied and disinfected, and a rubber filling is packed tightly inside the canal. There are two methods of restoring the tooth colour of the black tooth: either by internal tooth bleaching or by placing a veneer on the tooth.
Black teeth treatment patients seeking internal tooth bleaching and other treatments often recall knocking their tooth in an accident some time ago which can then cause the nerve to die over time. The cause of the discolouration is thought to be decomposing blood products from the pulp inside the tooth. The black tooth discolouration caused by the decomposing blood products is permanent, and will not go back to its original colour of its own accord, causing it to stand out from the rest of your teeth, and in turn, possibly making you feel self-conscious about smiling.
Black Teeth Treatment – Internal Tooth Bleaching at Smile Cliniq
Smile Cliniq offers internal bleaching to help solve the problem of black teeth. Internal bleaching is similar to normal teeth whitening but whitens the tooth from the inside. It can only be done after root canal treatment and will improve the discolouration after one session. The result, however, cannot be guaranteed to match the rest of your teeth, but will significantly improve its appearance. Internal whitening starts from £250 per tooth (excluding restoration).  Please note in some cases a previous root canal filling may be leaking, hence the dark colour of the tooth, in certain cases this root canal treatment may have to be redone, before the internal tooth whitening.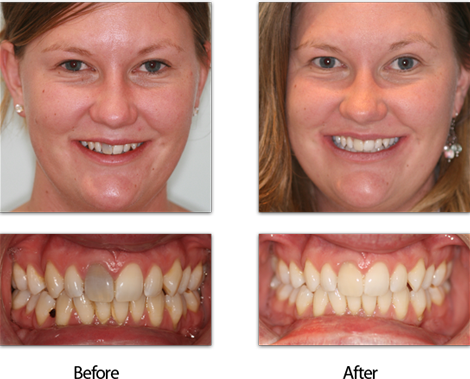 An alternative to internal tooth bleaching is to place a crown or veneer on the damaged tooth. This dark tooth treatment procedure involves removing the surface of the tooth and creating a brand new whiter tooth cover that is custom made to match the rest of your teeth and their shape. This option will provide a very good result but is more expensive due to the use of high-quality materials and time taken by the dentist and lab technician. Veneers start from £150 (composite) or £550 (porcelain).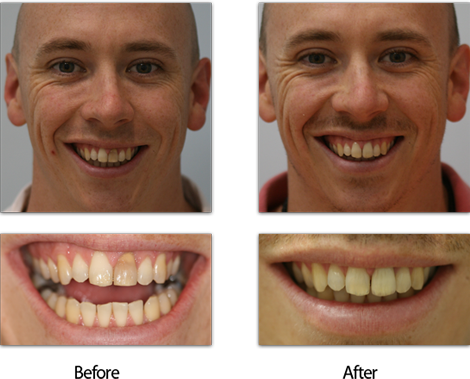 In some cases, it is beneficial to undergo internal tooth bleaching followed by a veneer. To find out more about black teeth treatment, feel free to book in for your FREE consultation by calling or send us an email at [email protected].
Dark Tooth Treatment Patient Story
"I injured my front tooth when I was about 10 years old in primary school. I run into one of my much taller, much bigger classmates! I was taken to the dentist almost immediately after it happened as my lip was massively swollen, however, there was too much swelling to see the full extent of the damage, but the dentist suspected I had killed the nerve and would need a root canal. A few weeks later I had the root canal done. My front tooth began discolouring a few days after the accident and continued to get darker until it became a very noticeable dark grey colour. I didn't have any dark tooth treatment at the time, but it didn't really bother me as I was so young. It was only in later years when I was about 15 years old that it really started to bother me, especially when I got my braces off which made the darkened tooth even more noticeable, as up to this it was partially covered by the brace itself.

I had internal tooth bleaching done when I was about 13 years old and on holiday in New York, as my mum's friend is a dentist there. The results of this black tooth treatment were good but as I was only able to make it to 2 out of the 3 recommended sessions, the tooth began to discolour again within a few years. When I was around 17 years old I had more dark tooth treatment, this time a whitening kit that I used at home for 2 weeks. The results of this were good but not perfect and again this only lasted a few years.
In recent years, the discolouration of my front tooth has really bothered me and is something I particularly noticed in photographs. It was the first thing my eye was drawn to anytime I saw a photograph of myself. Thanks to years of Orthodontics I finally have nice straight teeth that I'm delighted with and take very good care of, however, all of this I felt was overshadowed by my grey front tooth. It made me very self-conscious and paranoid about my smile, despite the fact that the rest of my teeth were healthy.
The results from the internal tooth bleaching treatment carried out by Dr Chetan and his colleagues have been amazing. There has been a massive improvement in the colour of my front tooth and I no longer notice it in pictures. I'm delighted with the results and would definitely recommend this procedure to anyone with the same problem as mine, who like me do not want to go down the road of a crown or veneer."
Many thanks to Dr.Chetan  and his colleagues!!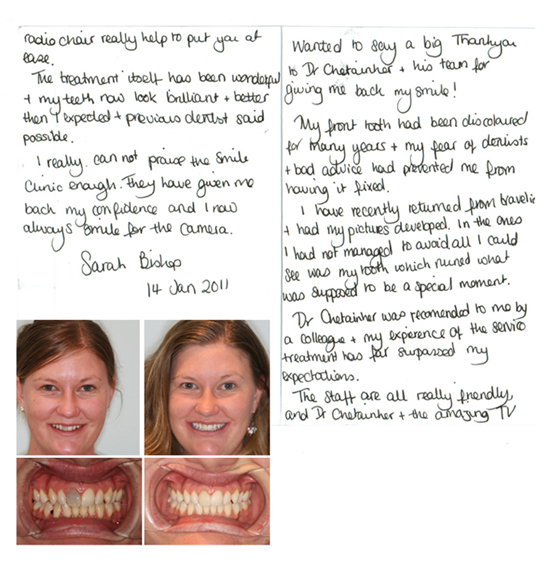 CHAT LIVE WITH US
OR

ask us a question
St Johns Wood
02073281200