Our Dental Practice, Materials and Techniques
Our Practice
The Practice has been designed to give a warm and pleasant environment for patients and staff.
We have won numerous awards and have achieved membership to the British Dental Association Good Practice scheme.
We have metered parking available outside the practices or free parking available at the Finchley practice on the side streets (except between 2-3pm).
We have disabled access at both branches.
On entering our receptionist will ask you to fill out a confidential Medical History form. Our practices are fully computerised using the latest secure Software of Excellence systems with the Hi-definition Guru Patient Education Software, all patients' records are held securely and confidentiality is ensured at all times.
You will be provided will full treatment options and risks along with pricing. You will always get a written treatment plan.
We offer interest free finance options to help make treatment easier.
Our surgeries are designed in a manner to ensure the best cross infection and hygiene standards are in place for your peace of mind.
We only use low dose digital x-rays. Apart from a lower dose of radiation, using these digital x-rays we are able to pick up much more diagnostic information from each x-ray.
Dental Techniques
Evidence Based Dentistry – we practice evidence based dentistry where ever possible
Intra and Extra oral digital SLR photography to show you exactly what is going on in your mouth, please see portfolio page.
Best Practice equipment such as electronic apex locators, heated obturation equipment.
Surgical magnification loupes, so we have an enlarged clearer vision of you teeth.
I.V sedation for those that would like to be sedated during treatments.
General Dental Council registered high quality British laboratories, to ensure work is of the highest quality.
Materials and Equipment
We are proud to say we use the highest quality materials and equipment at Smile Cliniq. Where possible we use materials and equipment independent tested by Reality 5 star and Dental Advisor.
We use the latest techniques taught by world leading clinicians.
Suppliers include: Dentsply, GC, 3i Biomet, Triodent and Heraeus Kulzer, so patients can rest assured their Oral Health is being maintained with the very best of materials, equipment and techniques.
At Smile Cliniq we are constantly investing to have the best materials and equipment for our dentists to provide the best possible treatment.
Bioclear Equipment
Dr. Krishen Shah, Dr. Sarita Kotecha and Dr Salma Daou are fully certified Bioclear practitioners.  This means they have the adequate training to apply the latest techniques in providing these complex restorations commonly used to treat Black triangles, Peg laterals, Spaces, Worn and broken teeth.  The training alone is not enough to practice these techniques, it involves a substantial investment in equipment and materials which Smile Cliniq have made:
The Patented Bioclear Matrices – this is a revolutionary set of matrices that can be adapted to fit any anterior tooth.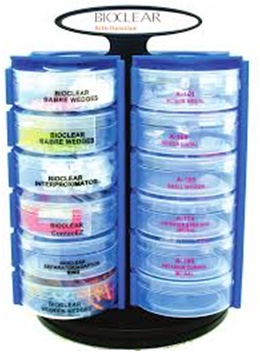 Bioclear Blasting Powder – Aluminium Trihydroxide powder is used to remove any biofilm and a plaque disclosing solution is used to confirm this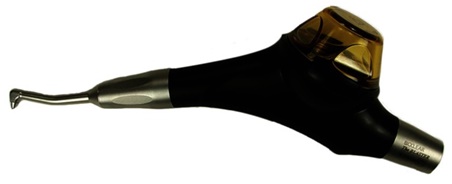 Composite Heater – used to heat the composite (restorative resin material) to 70 degrees celcius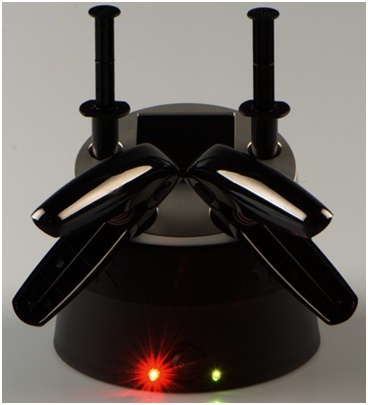 Polishing – The bioclear method of polishing is very thorough and specific and uses specialist polishing pastes and cups.  This makes it almost impossible to distinguish the difference between natural tooth and the Bioclear restoration.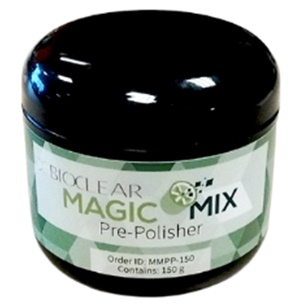 Root Canal Treatment Equipment
Root Canal Treatment is a complex procedure (click here) and requires very specific equipment and materials.
All of our root canal treatments are carried out under rubber dam (dental dam). This isolation technique involves us temporarily placing a barrier between the tooth and the rest of the mouth.  This has several benefits including preventing the root canal from getting infected from bacterial in the oral cavity, allowing the dentist a clear field to carry out his work, good moisture control to allow ideal placement of dental materials and protecting the patient from swallowing any dental materials.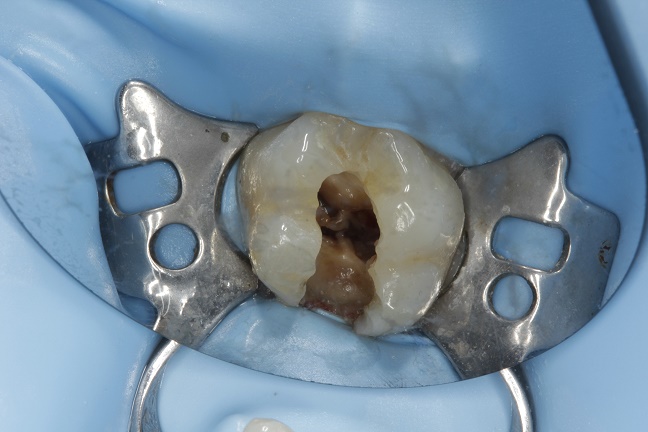 Magnification is also used in the form of loupes/microscope. Root canals are intricate in nature and the more we can see the better the treatment we can provide for the patient.
At Smile we have the VDW Gold motor: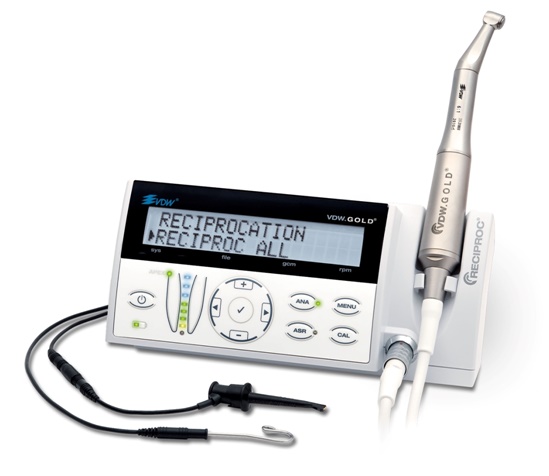 This costly, market leading motor has many features. It can measure the length of the root canal and is compatible with many different file systems, using the correct torque and speed settings for the corresponding files.
We have fine Endodontic Ulatrasonic tips to help with the difficult canals.
In order to shape the root canals Dentsply Sirona (formerly Maillefer) endodontic files are used. We have various rotary and reciprocating systems at hand to use to shape the canals.  These include ProTaper Gold, Waveone Gold and Reciproc.  We tailor the treatment to the individual canal.
We have the latest equipment for warm vertical compaction (an advanced root canal technique).  This includes the B&L SuperEndo Alpha and Beta kits: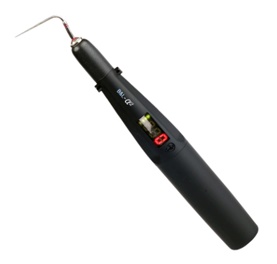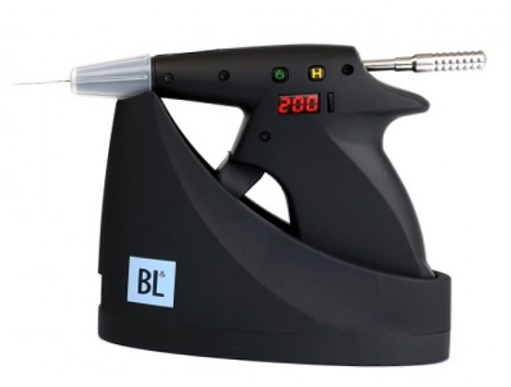 These pictures may look scary but in fact they are the market leading materials in the continuous wave technique for Obturation (filling root canals).
The B&L alpha is an electric heat carrier which allows us to remove excess gutta percha (root canal filling material) and compact it in the canals.  The B&L Beta is a device which extrudes warm gutta percha and we can use this to back fill the canals.
BL-S Kondensers are used to help compact the gutta percha (they have a stainless steel end and a Ni-Ti (nickel titanium end for added flexibility: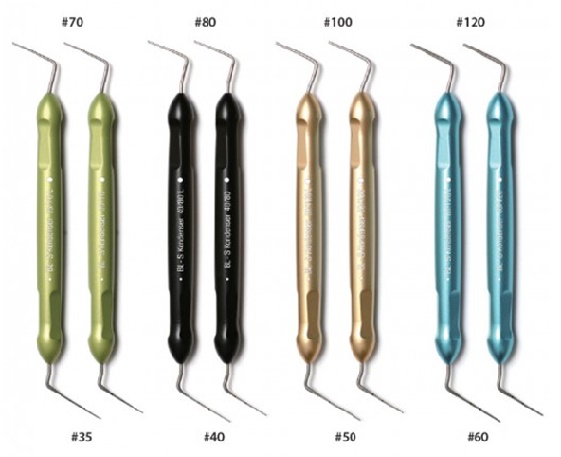 Dr. Krishen Shah who has a Special Interest in this field and has undertaken further training accepts internal and external referrals.
Lasers
At Smile Cliniq we use Quicklase Lasers for soft tissue management and have a range of uses such as:
Gingival Re-contouring (improving gum margins for aesthetics, impressions) (click here)
Frenectomy (sometimes we have ecess soft tissue that needs to be removed to prevent gaps between teeth or to release the lips for increased movement)
Operculectomy (removing excess gum tissue over wisdom tooth therefore reducing the incidence of reinfections and allowing the tooth to erupt) (click here)
Gingival Depigmentation (click here)
Treatment of Ulcers (click here)
Laser assisted periodontal treatment (click here)
Laser assisted endodontic treatment (lasers can be used to help aid the disinfection of canals)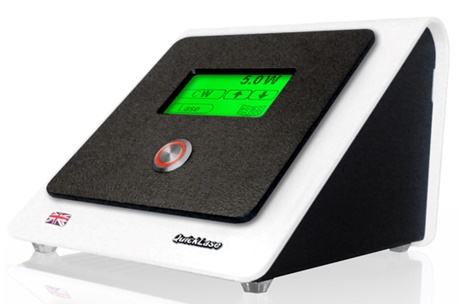 Implants
Megagen Implants are a 21st century premium implant system with a revolutionary design that allows for maximum bone preservation around implants. Beyond bone integration, these implants can also assure a beautiful gum line. They can be used for single tooth implants or multiple teeth implantation. Smile Cliniq London provides an outstanding service providing these different types of implants.
Trios Scanner
The Trios scanner is a state of the art digital impression system that eliminates the need for messy putty impressions in your mouth. The scanner digitally captures a detailed 3D model of your teeth and gums. This process is far more comfortable than the conventional impressions and its faster and can offer you an analysis of your desired result straight away.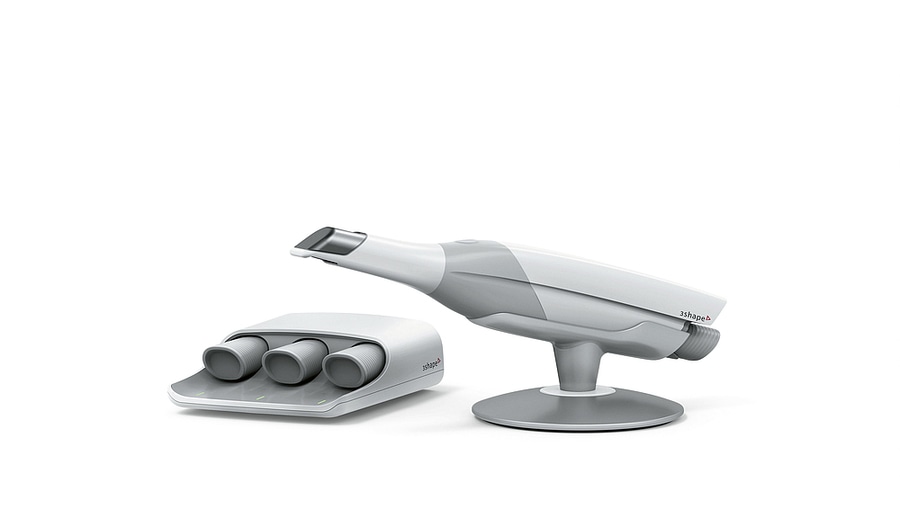 CBCT Scanner
The Planmeca Pro Max CBCT scanner uses ultra low doses of radiation to capture the images needed for your diagnosis and treatment. OPG's (Xrays of the full mouth and jaw) and CT scans are used for treatments such as implants, orthodontic treatment and extractions as well as full mouth rehabilitation.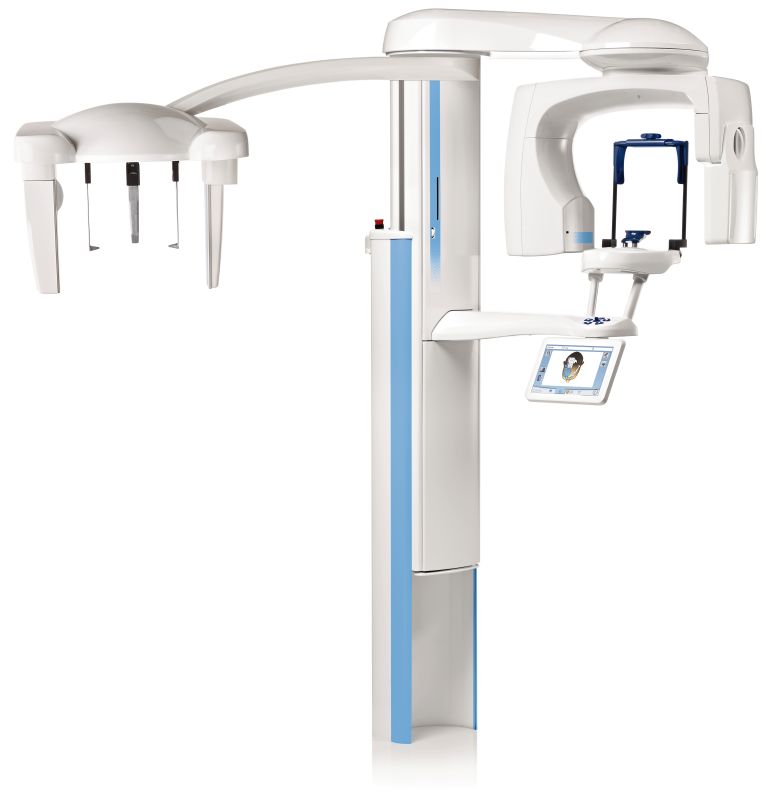 CJ Optics Dental Microscope
Dr. Krishen Shah routinely uses the microscope in our St. Johns Wood practice to undertake Root Canal Treatments.  The microscope can also be used in other aspects of dentistry.  A live stream is able to be provided as the treatment is carried out.

Piezoelectric device
An innovative approach In the age of minimally invasive treatment! 
 Applications in dentistry:
Piezosurgical equipment can be used for preparation of root canal; for atraumatic tooth extraction and ankylotic tooth extraction and surgical orthodontic surgeries
Applications in Periodontology
Piezosurgical equipment can be used for the removal of calculus deposits and stains from teeth, scaling, root planning and crown lengthening, periodontal ostectomy and osteoplasty procedures which require careful removal of small quantities of bone adjacent to exposed root surfaces to avoid damaging of the tooth surface.
The piezosurgery device is also used in bone grafting of a periodontal defect in periodontal bone regeneration procedures Autogenous bone can be readily harvested from adjacent sites with minimal trauma and therefore minimal postoperative effects.
The device allows for precise removal of bone, with minimal risk of injury to the underlying root surfaces. 
The cut is safe because the ultrasonic frequency used does not cut soft tissue. The cutting action is less invasive, producing less collateral tissue damage, which results in better healing.
Piezoelectric device and Implant Surgery
 Implant site preparation, implant removal and bone harvesting, bone grafting and sinus lifts can be done with much ease and less soft tissue trauma.
Why choose piezoelectric surgery? 
Piezoelectric surgery  reduces the impact on soft tissues (vessels and nerves) which lie adjacent to the areas of treatment. Compared to traditional methods, it enables optimal healing because it reduces the postsurgery swelling and discomfort.
Advantages over conventional surgical equipment:
Minimally invasive dental extractions. Less swelling and less analgesics – best treatment for extractions.

Faster healing from periodontal surgical procedures and dental implants

Reduced risk of perforating the Schneider membrane in sinus lift procedures 

Precise cutting and safety 

Bleeding-free surgery site 

Good visibility of the operating site resulting in precise procedures  

Selective cutting and minimal operative invasion 

Faster bone regeneration and healing process  Antiseptic effect when cutting 

No risk of emphysema 

Decrease in post-intervention pain 

Reduced traumatic psychological stress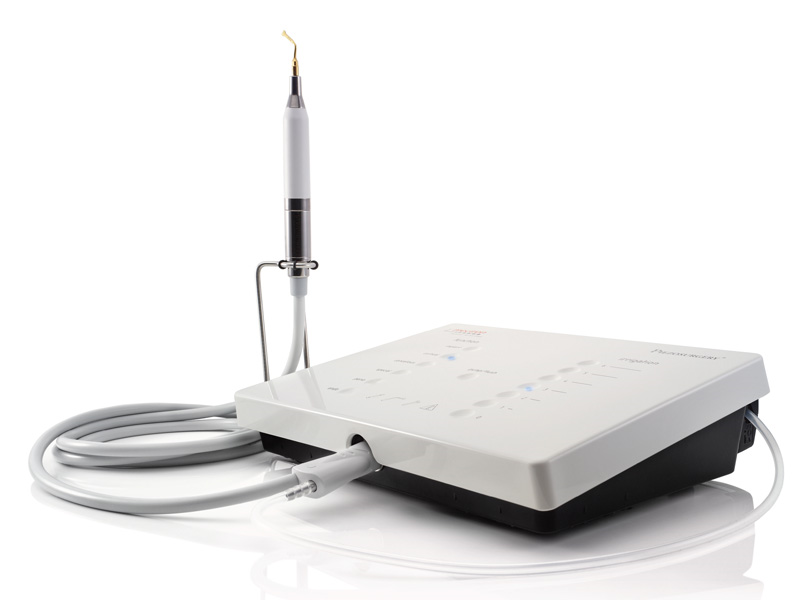 Mini Smile Makeover
Mini Smile Makeover London is a specialised protocol used by our cosmetic dentists to achieve a beautiful and conservative transformation to your smile using composite to change either the shape, colour or length of teeth (or all three).  Improvements can be done to a single tooth or two adjacent teeth to close a gap, or the whole smile. Mini stands for minimally invasive and this is exactly what we strive for, minimally invasive but maximum results.
We use a high end composite called Renamel which gives the highest polish/shine compared to other composites on the market. A highly polished composite ensures that the results last much longer than a composite which attracts staining more prematurely.












CHAT LIVE WITH US
OR

ask us a question
St Johns Wood
02073281200