SMILE CLINIQ
What Is Composite Bonding?
Are you interested in upgrading your smile in one appointment? Read on for the low-down on composite bonding!
Visit www.smilecliniq.com for more information or to book a consultation!
How Does Composite Bonding Work?
Composite is the exact same material used for white fillings! When used at the front of the mouth, we can layer the material around your teeth using a high lustre composite to achieve a seamless, sparkling finish.
Can I Get Composite Bonding Done on my Teeth?
Your dentist will first assess your smile and the health of your teeth and gums. You can discuss what you would like to achieve, for example, improving the shapes/shade/alignment of your teeth.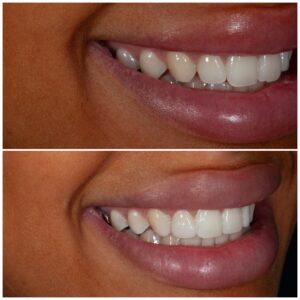 Is Composite Bonding Permanent?
You can achieve very good longevity with composite bonding, particularly if you have a stable bite and look after your teeth well. Whilst composite is strong, it is not stronger than natural enamel, which is the strongest tissue in the body! Therefore it can be expected that your composite bonding may need to be refreshed roughly every 5-7 years. Composite can chip and debond but can be repaired very easily in one appointment.
Can Composite Bonding be Whitened?
Unlike your natural tooth tissue, composite bonding does not whiten. It is therefore a good idea to speak to your dentist about professional tooth whitening prior to having composite bonding carried out. Once you are happy with the shade of your natural teeth, your dentist can help to choose a composite shade that will blend in seamlessly.
Can Composite Bonding Fix Crooked Teeth?
One of the great things about composite is that it can applied directly onto your teeth to change the entire outline form. Therefore, instanding and crooked teeth can be modified in one appointment. This more comprehensive use of composite is often called composite veneering. It is important to understand that these teeth will feel bulkier as it will require more composite to be added to the front surface of the teeth.  
To reduce the need for bulkier composite restorations, your dentist may recommend straightening your teeth first. This makes it a lot easier to carry out composite bonding, and the amount of material needed to achieve a good aesthetic outcome is far less.