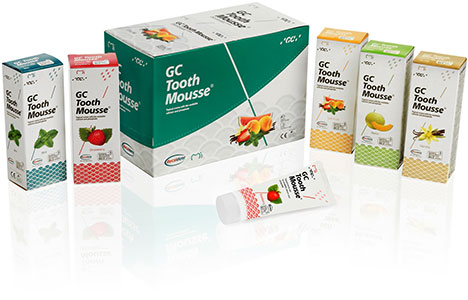 Tooth mousse is a specially designed formula of bio-available calcium and phosphate (with no fluoride). It is the first product for professional use to contain Recaldent™. Recaldent™ is derived from milk protein which has been known to have a tooth protective effect as it contains casein protein called Casein Phosphopeptide (CPP), which carried calcium.
Studies shows that tooth mousse can 'activate' natural defence against caries.
When applied to tooth surfaces, The CPP molecule binds to biofilm, plaque, bacteria and surrounding soft tissues.
It can also be used to help minimalize visible white spot lesions (caused by demineralisation) and to prevent sensitivity.
You can apply it with your fingers directly on your teeth or you can apply it on your retainer/whitening tray and pop in your mouth. The longer you will have it on – the better results.
Available in Smile Cliniq in 5 delicious flavours:
Strawberry, Mint, Melon, Vanilla and Tutti-Frutti
Next time you're in Smile Cliniq ask your dentist about the benefits of Tooth Mousse