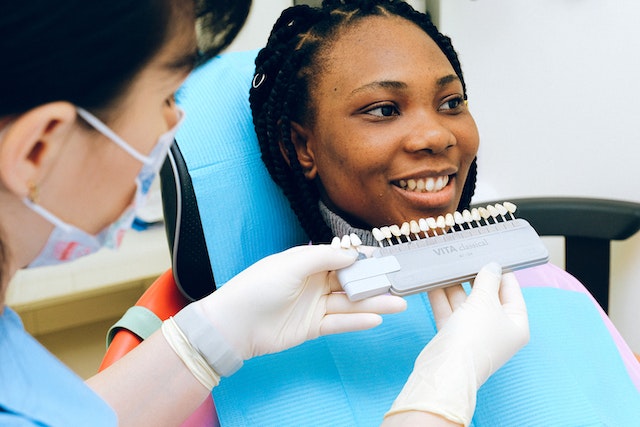 Dental implants have rapidly grown to be one of the most popular solutions to replace missing teeth, providing a permanent, aesthetically pleasing and practical alternative for those suffering from tooth loss. This minor surgery, while routine, still requires specific post-procedural care for the best outcome, and a crucial part of this care includes dietary alterations, particularly, the avoidance of dairy products. But why no dairy after a dental implant? Let's take a closer look.
What are Dental Implants?
First of all – what is a dental implant? A dental implant is a permanent surgical solution for replacing missing teeth, designed to blend in seamlessly with your natural teeth. The implantation process consists of three parts: the implant itself, a small titanium post that serves as the root of the new tooth by integrating with the jawbone; the abutment, a connector that holds the new tooth; and the crown, the visible part of the tooth that is custom-made to match your natural teeth.
While typically more expensive than other dental procedures, dental implants are popular due to their durability, functionality, and aesthetic appeal: not only do they help maintain facial structure, but they also prevent bone loss and offer a reliable alternative to dentures or bridges.
Also Read: How Long Does a Dental Implant Procedure Take?
Can I Drink Milk or Other Dairy Products After a Dental Implant?
So, what's the deal with dairy products after a dental implant? Typically, any dental clinic in London (and elsewhere!) will advise against consuming dairy products like milk, cheese or yoghurt immediately after the procedure. This advice often perplexes patients, especially given the nutrient-rich nature of dairy and its known benefits for bone health – who hasn't heard that drinking milk is good for strong teeth? However, the issue doesn't lie with dairy itself, but rather with the context of healing and recovery post-procedure.
Dairy and the Healing Process
In the early stages of recovery, the main goal is to prevent infection and ensure the implant successfully integrates with the jawbone. Dairy products, though nutritious, can pose a threat to the delicate healing process:
Risk of infection
Firstly, consuming dairy may increase your risk of bacterial growth. Dairy products, especially when left at room temperature, can become breeding grounds for harmful bacteria. Introducing such bacteria into the mouth following surgery could potentially jeopardise the healing process and increase the risk of infection.
Preventing blood clotting
Secondly, while chewing is often discouraged after an implant procedure to prevent unnecessary stress on the implant site, even softer dairy products like yoghurt or ice cream can disturb the implant, hindering the healing process.
Read More: What Can You Eat After Dental Implant Surgery
Dairy and Antibiotics
If you've ever had a dental implant before, you'll know that some dentists actually take one step further, and proactively prescribe antibiotics after the procedure to prevent infection.
This is where the crossover between dairy and antibiotics can be complicated: consuming dairy products while taking certain types of antibiotics, like tetracyclines, can hinder the drug's effectiveness. This happens because the calcium found in dairy binds with the antibiotic, rendering it less effective in fighting off potential infections. While this interaction is not applicable to all types of antibiotics, it's generally better to err on the side of caution and avoid dairy while taking any post-procedural antibiotics.
Dairy and Blood Clotting
As we mentioned above, a blood clot will typically form at the surgical site following your dental implant procedure, and represents a crucial part of the healing process. This blood clot protects the underlying bone and nerve endings, and in turn helps to speed up recovery – but this process can be interrupted if you consume dairy. Given its high calcium level, dairy can end up interfering with the clotting, leading you to bleed for a longer period of time.
Dairy and Inflammation
Inflammation is a standard response to any surgical procedure, dental implants included: it's basically the body's natural defense mechanism kicking in to protect the site of injury. However, too much inflammation can delay healing and cause discomfort, and some studies suggest that certain dairy products may contribute to inflammation due to the presence of saturated fats, particularly in full-fat dairy options.
While the connection between dairy consumption and inflammation is not clear-cut and varies from person to person, avoiding dairy during the initial recovery phase post dental implant surgery can be a proactive step to mitigate any potential increase in inflammation.
Dairy Alternatives and Nutritional Considerations After a Dental Implant
So, given the temporary removal of dairy from your diet following dental implant surgery, it's important to find suitable alternatives to ensure your nutritional needs are met. There are plenty of non-dairy options that can provide the necessary calcium and vitamins for your recovery period:
Plant-based alternatives
Plant-based milks such as almond, soy, or oat milk can be good dairy substitutes. They are often fortified with calcium and other essential nutrients. However, be cautious about their sugar content as high sugar levels can harm oral health; opt for unsweetened versions whenever possible.
Bone broth
Bone broth can be a nutritious, easily consumable option that provides not only a good amount of calcium but also other minerals like magnesium and phosphorus that are essential for bone health.
Leafy greens
Tofu, dark leafy greens, and fish like salmon and sardines (with bones) are excellent sources of calcium and other vital nutrients for your healing process. Incorporating these into your meals can provide a wholesome diet during your recovery.
The Bottom Line
Ultimately, while dairy products are not inherently harmful to your dental implant, their avoidance in the immediate aftermath of the surgery can play a part in ensuring a successful healing process. Always remember that the most crucial factor is following your dentist's post-operative instructions meticulously, so always speak with your dentist at length before embarking on this procedure.